The age limit for a booster dose of Covid-19 vaccine has been lowered to 40 years, according to Health and Family Welfare Minister Zahid Maleque.
The minister made the announcement during a news conference held at the auditorium of Bangladesh College of Physicians and Surgeons (BCPS) in Dhaka's Mohakhali around 11 a.m. on Sunday (January 30).
The press conference was organized to inform about the overall situation of coronavirus infection in the country.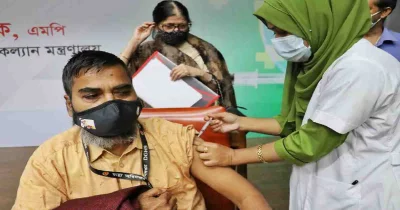 The health minister said that those over the age of 12 will be vaccinated.
"We've started giving booster dosages to those over the age of 50. However, we are not receiving a lot of feedback. Only a few people have taken the booster dosage so far. As a result, those aged 40 and over will be able to acquire a booster dose of Covid-19 vaccination starting immediately, " stated Zahid Maleque.
"We have 90 million vaccinations in our collections," he added.