Queen Elizabeth II has expressed her "sincere wish" for Prince Charles' wife, Camilla Parker Bowles, to be known as "queen consort" when he takes the throne. The Queen released a statement on the eve of the 70th anniversary of her Accession Day, known as her platinum jubilee.
The 95 years old monarch, who is at Sandringham, wrote: "When, in the fullness of time, my son Charles becomes King, I know you will give him and his wife Camilla the same support that you have given me; and it is my sincere wish that, when that time comes, Camilla will be known as Queen Consort as she continues her own loyal service."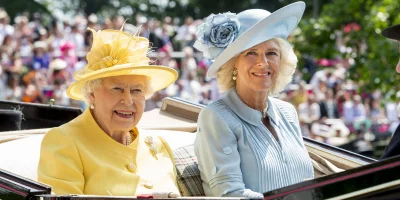 When Camilla married into the Royal Family in 2005, it was announced that the Duchess of Cornwall would not take the title of Queen when her husband becomes monarch.
Instead it was thought that she would instead become HRH The Princess Consort after public opinion of Camilla was previously not favourable due to her relationship with Charles when he was married to the late Princess Diana.
Elizabeth, using the rarest of Jubilees to put her affairs in order on a public platform, also shared her succession support for her eldest son as monarch.
Charles and Camilla were "touched and honoured" by the Queen's gesture, Clarence House said.
A spokesman for the couple said: "The Prince of Wales will be issuing a statement of congratulation to the Queen on Accession Day.
✍️ On the eve of the 70th anniversary of her Accession to the throne, The Queen has written a message thanking the public and her family for their support, and looking forward to #PlatinumJubilee celebrations over the coming year. #HM70 pic.twitter.com/U6JfzeZMLn

— The Royal Family (@RoyalFamily) February 5, 2022
She also paid tribute to the late Duke of Edinburgh for the sacrifices he made as consort, thanked her family for their support, and made reference to the Queen Mother's role as a Queen Consort.
The Queen wrote: "I am fortunate to have had the steadfast and loving support of my family. I was blessed that in Prince Philip I had a partner willing to carry out the role of consort and unselfishly make the sacrifices that go with it. It is a role I saw my own mother perform during my father's reign."
Usually, the Queen would spend the weekend around Accession Day privately, but in a sign of how significant this moment is for the monarch, the palace has co-ordinated a series of events and moments where we've been able to see the Queen this weekend, including a reception in the ballroom at Sandringham House on Saturday, and pictures of her looking at jubilee memorabilia from the royal archives.