Nobel Laureate British Novelist Abdulrazak Gurnah gave a talk on "Writing and Its Hinterland" on Monday (January 9) at University of Liberal Arts Bangladesh (ULAB).
The event started with the ULAB theme song followed by the welcome speech of Dr. Kazi Anis Ahmed, Vice-president of ULAB Board of Trustees, said a press release.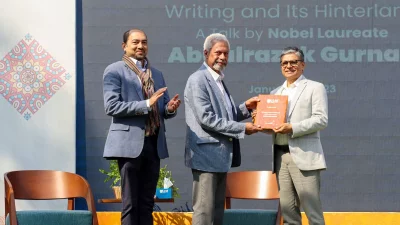 Abdulrazak Gurnah, in his speech addressed the new writers. He said, "A writer's memory is his hinterland. It should not be simple. It should be detailed. It can also be called a "Research". He may read and learn to properly describe the memory."
Moderated by ULAB's Special Adviser to the Board of Trustees, Dr. Shamsad Mortuza, The event was concluded by Professor Imran Rahman, Vice Chancellor of ULAB. The event was attended by many writers, novelists and literary enthusiasts.