"Nobel Mahmud and Misme Mahmud, a husband-and-wife duo, are renowned vloggers, influencers, and YouTubers hailing from Bangladesh, specializing in daily life vlogs. While many create content solely for monetary gain, for Misme Mahmud, content creation is a beloved hobby. Her journey as a social media influencer began in 2018, and by 2023, she proudly holds ambassadorial roles with six successful brands.
Their story began in 2015 when, while his peers sought secure employment to support their families, Nobel recognized an opportunity to leverage his artistic talents. Simultaneously, his wife embarked on her vlogging journey driven by passion and hobby. In the era of social media, Nobel Mahmud boasts over 600,000 Facebook fans and an impressive one million YouTube subscribers. Meanwhile, his wife commands nearly half a million followers on Facebook.
The couple acknowledges the numerous challenges they faced on their content creation journey. When asked for advice for emerging content creators, they emphasized the importance of producing quality content and staying committed to one's goals. They believe that views alone are not the ultimate measure of success, encouraging everyone on social media to create content that enhances their reputation. They also shared valuable technical advice, suggesting that sound should not be pre-encoded initially to prevent a drop in video quality due to ambient noise. They recommend shooting first and adding voice-overs later. To improve audio quality, they advise using earphones or headphones to block out background noise, although speakers can also suffice. For video editing, they recommend apps like Capcut or Inshot, with mobile apps suitable for beginners before transitioning to laptop or PC editing. They stress the importance of eloquent speech as videos with inadequate narration may have limited reach.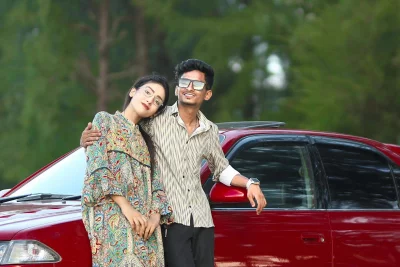 Despite facing a lack of a supportive environment initially, their unwavering determination propelled them forward. They diversified their content to appeal to a broader audience throughout the country.
Looking to the future, the couple envisions establishing a production company that nurtures emerging talent. Their goal is to create a vibrant entertainment industry environment by providing aspiring artists with a platform to showcase their skills and unleash their creative potential. Through this project, they hope to inspire others to embrace the transformative power of art and pursue their aspirations fearlessly."