You've decided to start a blog. Now you just need to figure out how to blog, right? Blogging platforms have become more powerful while making it easier to start a blog than ever.
Choosing the right blog platform to fit your needs
It's important to choose the right platform that's right for you and your needs, not just the one everyone says is the best. WordPress.com offers hosting for free if you are using it on your own website, but WordPress.org has paid plans as well where the prices vary depending on what plan you choose.
While site builder like Wix is generally more costly, but it is a one-stop solution that helps you build your website in minutes.
Take some time and find the one that fits you and your blogging needs just right. Here are some choices-Gator, Drupal, Joomla, Medium, Weebly, Squarespac, Typepad, Blogger, Tumblr, Ghost.
Topic brainstorming and finding your niche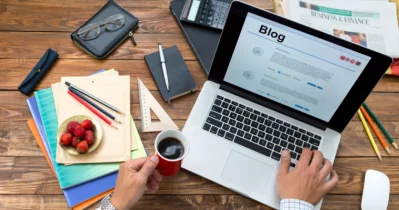 Once you've determined your blog's overarching goals, then it's time to figure out topics. Fortunately, your options are virtually limitless. For inspiration, check out the blogs of your competitors — what kinds of posts are popular on those sites? Look for posts with high numbers of likes, shares, and comments in order to identify trends and pinpoint the writing and formatting styles that keep fans coming back.
Writing not only about what you know, but also what you're passionate about, gives you an authenticity that new visitors to your site will appreciate.
Ideal blog post frequency
With the constant stream of blog posts and content that saturates the internet every day, it's easy to get lost in the shuffle. Especially when you're just starting out in the blogging industry, strive to post a new article on a weekly basis.
Post frequency means nothing if your content is low quality. When your blog posts are grammatically correct, properly formatted, and completely original, you're likely to see higher conversion rates and more frequent shares.
And speaking of shares, your social media presence plays a key role in ensuring that your content commands attention.
Choose a great name
Whatever platform you choose for your blog, it will have its specifics. Websites require you to think about how you can generate more traffic, Instagram works fine when you grow your numbers of followers, YouTube gives money only if you reach a certain number of views.
However, what's common for all platforms is the need to have a great name. Be it a domain name or a name of the account, it should be quick to spell and easy to recognize. It should distinguish you from others.
Blog design
Once you get the basics on how to start a blog nailed down, your next step will be to focus on what it looks like, also known your blog design. The color, patterns, fonts, and a number of other details should work together to draw your readers in.
Essential elements on your blog
Once you have your blog platform chosen and your design in place, it's time to turn your attention to the other essential elements that make up a successful blog. This can range from your social media buttons, to your RSS feed, to your page describing who you are and what your blog is about.
Work on your visuals
Readers appreciated written content more than visuals. Today, with the competition among bloggers growing exponentially, you can't attract an audience without beautiful pics and videos.
Add images, gifs, and short video clips now accompany blogging every step of the way. You can't go any farther if you don't know how to edit your pictures or videos.
Determine timing
For your blog to succeed determine the best time to hit your new posts. Articles published in the middle of the night won't receive as much attention as those posts that appear in the middle of the day.
Determine what timing is best for your audience by analyzing its online activity and hit your new publications when it reaches its peak. Blogging is not only about content quality. You have to care about your traffic to get more popular.