The history of Durga Puja is very ancient. The celebration of the significant worship (Puja) of Goddess Durga was first held in 1580. Bangladesh is well known for its history, culture and tradition in the world.
You might be astonished after knowing that the first celebration of Durga Puja, one of the most prominent religious festivals for Hindus, was first organised by renowned king of Bengal Kongsho Narayan Roy Bahadur in Taherpur area under Bagmara upazila of Rajshahi in Bangladesh in 1580. The Puja was held under the priesthood of Pandit Ramesh Shastri on that time.
It was known that the king established three temples- Durga temple, Gobinda temple and Shib temple, adjacent to his palace at Taherpur under his kingdom in Rajshahi.
Hundreds of thousands of people throng the Durga temple in Taherpur from home and abroad to celebrate the festival every year.
General Secretary of Taherpur Durga and Gobinda temple, Chironjib Roy, told this correspondent that Kongsho Narayan Roy Bahadur, the then king of this region, initiated the festival publicly for the first time in 1580 here. The king spent some nine lakh taka for the Puja celebration on that time.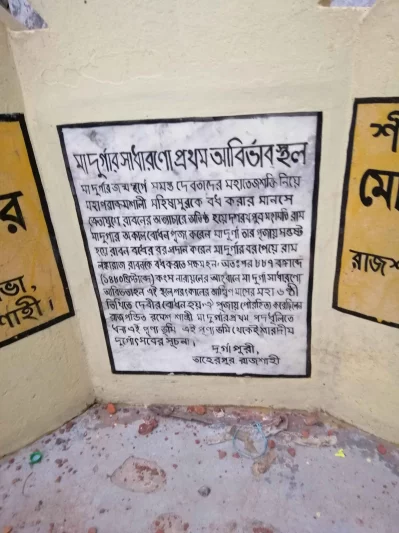 He further said, "We want to see a non-communal Bangladesh. We wish all the success and happiness of the people across the world."
He also greeted everyone on the occasion of Durga Puja.
The chief priest of the temple, Gopal Chakrabarty, said, "Greetings to everyone on Durga Puja. I have been serving here for the last 14 years. Durga Puja is celebrated with the hope of peace conquering the evil power. Raja Kongsho Narayan Roy Bahadur organized the festival to get rid of any evil power or epidemic."
However, at present the king's palace is being used as a college. The name of the college is Taherpur Degree College.
Acting Principal of the college, M Mobarak Ali, said, "Once Taherpur Degree College was the palace of the king. It was known that the king initiated the Durga Puja in 1580 (according to Bengali calendar in 887)."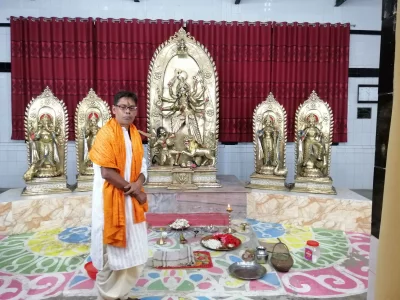 Assistant Professor of Taherpur Degree College and also a writer of local history, Nazrul Islam Shanti, said, "Referring several books and Hindu priests, he said that Raja Kongsho Narayan Roy Bahadur started Durga Puja in 1580 spending around 7 to 8 lakh taka. People from different walks of life celebrate the festival here with great enthusiasm. The Puja celebration in Taherpur is a role model of communal harmony as almost everyone remains in a festive mood during the celebration."
Celebration of Goddess Durga has long history and significance in Bengal. The Puja is the main religious and cultural festival for Hindus in Bangladesh. It is celebrated across the country with the fervor of festivity. This year Durga Puja will begin on October 1 and end on October 5.