With utmost fervour and joy, 'Sarbojanin Puja Sangha' of New Zealand celebrated the Sri Sri Durga Puja-2022 at Blockhouse Bay community hall, Auckland, New Zealand.
Hindu families from Bangladesh and West Bengal met together there on October 7 and 8 to celebrate the festival. This year's occasion turned out to as a bigger and better one than previous such celebrations as there were several restrictions for a couple of years due to the coronavirus pandemic.
Organizers said that devotees were waiting eagerly to resume the celebration and this year they got the opportunity to celebrate the Puja with due fervour.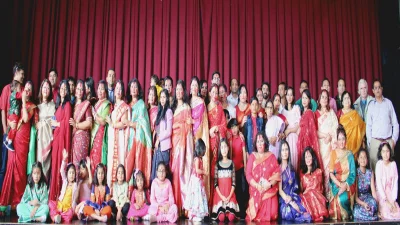 Several regular activities were held cantering the festival including worshiping Devi Durga and distributing Bhog (a religious offering in Hinduism).
The devotees also performed Dhunuchi dance (a flamboyant dance unique to Sri Sri Durga Puja) and the ritual drummers or Dhakis played tunes for them. Devotees also participated at a cultural event where Bangladeshi culture to a foreign land was represented. The puja festival and the cultural programme were enjoyed by many non-Bengali Indians and Nepalese as well. The ambience was truly Sarbojanin (for all).