Diwali, also known as 'Deepabali', is one of the biggest and most significant holy festivals of Hindu community in Bangladesh. Like every year, this auspicious festival is going to be celebrated happily across the country within a few days. It is popularly known as 'Festival of Lights'. This brightest festival refers to a new beginning and celebrates the triumph of light over the forces of evil and darkness.
The word "Diwali" is derived from the Sanskrit word "Deepabali", which implies "rows of lighted lamps". According to Ramayan, this colorful festival started when Lord Rama came back home along with His wife Debi Sita and brother Lakshmana after 14 years of exile. At that time, the people of 'Ayodhya' lit up the whole kingdom with lamps in order to celebrate the auspicious moment of homecoming of the Lord Rama after defeating the demon king Ravana. Afterwards, it (lamp) has become an essential part of this festival.
According to Hindu Mythology, another story regarding Diwali is that the festival marks the day Lord Krishna defeated 'Narakasura' (the demon) and freed the people of his kingdom. After slaying the demon, Lord Krishna declared it a day of festivities.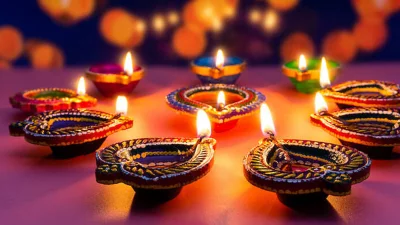 Diwali is celebrated in different parts of the world in different ways. In Bangladesh, 'Kali Puja' also known as 'Shyama Puja' is celebrated on the new moon day during the Diwali festivities. 'Debi Kali' is considered as another form of 'Debi Durga'. Devotees worship Debi Kali on the auspicious day from the core belief that praying to Goddess Kali can help them fulfill their wishes, erase the darkness of ignorance, overcome obstacles in their lives and protect them from evil.
To celebrate this festival with full joy and enthusiasm people decorate their houses with lamps, buy new clothes, meet friends and family and exchange gifts, children burst crackers in the evening, devotees visit different temples dressed in new clothes to witness the Puja ceremony and perform traditional rituals. They also pray to the Goddess 'Kali' (also called as 'Shyama') to bless them with peace, prosperity, happiness and wealth.
The main purpose of the celebration of the festival Diwali is to observe the victory of light over darkness, knowledge over ignorance, good over evil and hope over despair. The celebration conveys us the message that we should illuminate the darkness of ignorance and eliminate all the negativity from our mind. Besides, this vibrant festival also indicates the message of friendship and togetherness.
To sum up, it can be said that Diwali is a great festival that comes every year to enlighten all the humanity. Furthermore, the festival of Diwali has an in-depth spiritual meaning that signifies the awareness of inner light. It is, undoubtedly, such a glorious festival that brings happiness and peace with lots of blessings for all irrespective of caste, creed and community and has the power to light up everyone's heart through dispelling the darkness and all the obstacles of life.
The author studied MS in Educational Psychology at the University of Dhaka. The writer can be reached at [email protected]