The 109th birth anniversary of art maestro Zainul Abedin is being observed today. He was born on 29 December 1914 in Kendua, Mymensingh district.
His father was Tamizuddin Ahmed and his mother was Joynabunnesa. Zainul grew up in the calm, lush and beautiful natural environment of the river basin of Brahmaputra. For the love of painting he ran away from home in 1933 without taking part in the secondary examination and took shelter in Calcutta.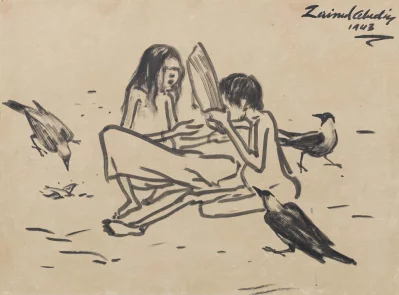 In 1933, he got admitted to the Calcutta Government Art School in Kolkata. After the end of his studies, he joined as a faculty in the same school. In 1948, he established the Institute of Arts and Crafts, now the Faculty of Fine Arts at Dhaka University. Zainul was the founder principal of the institute.
Zainul Abedin's series of watercolour paintings on the Brahmaputra River had won the gold medal in All-India Exhibition in 1938. He had been recognized all over the world for drawing a famous picture on the famine of 1943.
Zainul Abedin also established the Folk and Crafts Foundation at Sonargaon in Narayanganj in 1975 inspired by Bangabandhu Sheikh Mujibur Rahman. He was elected President of the Bangla Academy in 1972 and held the post till 1974. In 1974, he was nominated as one of the advisors of Bangladesh Shilpakala Academy. Elected a member of the Congress for World Unity in Philadelphia, USA. He became the first national professor of Bangladesh in 1974 and held the post till his death.
The legendary artist died of cancer on May 28, 1976 at the age of 61.