Sabyasachi Chakraborty is a senior renowned actor from Kolkata. He is a rolling stone in both the silver and small screen. Through his acting prowess he has won the hearts of people of all ages. He is well-known to all as 'Feluda' on the silver screen. The character Feluda from the director and writer Satyajit Ray has become everlasting by the exuberant acting of Sabyasachi Chakraborty.
The legendary actor has joined The Dhaka International Film Festival for the very first time. The film 'JK 1971' premiered on Saturday (January 14), where he played the role of Feluda. The film has been directed by Fakhrul Arefin Khan. During this festival, Sabyasachi Chakraborty has shed light on his long career and spoken about other things with journalists.
Q: How do you feel after watching the movie 'JK 1971' with the audience at Dhaka International Film Festival?
Sabyasachi Chakraborty: I have watched many of my movies with audiences as well as this one. But this movie has a different significance to me. During the 1971 Liberation War of Bangladesh, the refugees and their children were starving. Seeing the scenario, a French gentleman hijacked a plane and demanded 20 tons of medicine and food to support the refugees and their children in Bangladesh. This was emphasized in the story of the movie.
Q: You have already visited Bangladesh earlier. Between Kolkata and Dhaka, which city consists of more Bengali culture?
Sabyasachi Chakraborty: There is hardly any difference. I am glad attending Dhaka International Film Festival. Besides, there are more Bangalis in Dhaka. The practice of Bengali culture is more here. Dhaka city upholds the culture more. In our Kolkata, the number of non Bengalis is more. People of all Indian languages are there. Amidst the Bengali culture, there is a mixture of other cultures. West Bengal doesn't mean only Kolkata. Murshidabad, Darjeeling, Shillong, Siliguri and many other places consist of Bengali culture.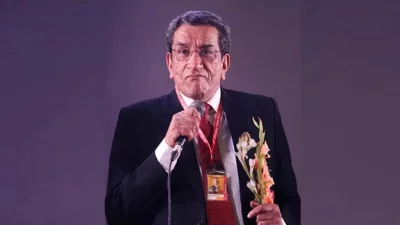 Q: What do you want to say about Bangladeshi cinema?
Sabyasachi Chakraborty: Bangladesh is making good films. Recently more good films are being made here. They are coming on OTT platforms. But not many films are made for the big screen. The numbers are not many. More Bengali films are hitting the Kolkata cinema halls.
Q4. We have seen your work in Fakhrul Arefin's 'Gondi' and then in 'JK 1971'. If he asks, will you do more films for him?
Sabyasachi Chakraborty: Why only Faukrul Sir! I have been offered for cinemas from all over the world. However, I have said no to all. So, there is nothing new to tell Arefin Bhai. I am not planning to say yes to any cinema for now. It is time for my retirement now. I want to spend the rest of my life in my own way. I want to enjoy my favorite foods, have sound sleep, read books and watch TV, OTT, and sports.
Q: What are the things that you kept in mind when the filmmakers offered you for different roles in movies?
Sabyasachi Chakraborty: Right now, I am saying no to everyone. I will not work anymore. My time in this field has come to an end. I'm retired. So far, I have worked for others. Now, I will only work for myself.
Q: How was your experience with the artists of Bangladesh?
Sabyasachi Chakraborty: I have worked with some of them. I could not work with all of them. I heard that all of them are good performers. I was supposed to work with Arifin Shuvoo, but that did not happen. I have worked with Sakib Khan twice and before that I worked with Ferdous for several times. My experience was good with all of them.
Q: An artist wants to live through his work. Why do you want to retire so early? Is there any exasperation?
Sabyasachi Chakraborty: Who told you that I'm an artist? I was forced to be an artist. I was an apron man. I used to be a full-time workman. I worked with hammers, screwdrivers, multimeter and soldering iron, etc. From there, I was discovered and forced to become an artist. I am not an artist. There is no frustration on anyone or anything. I have become old now. I am unwell as I was infected with Coronavirus. Therefore, I want to retire.
Q: What is your biggest achievement in your long career?
Sabyasachi Chakraborty: The biggest achievement is- playing the role of 'Feluda'.
Q: What is your advice to the new comers?
Sabyasachi Chakraborty: The only advice to the newcomers is- be a good human being. This should get the top priority.