Many of us work in an office, which means sitting in front of a computer from 9-to-5. A lack of movement during the day is terrible enough but when combined with an unhealthy diet, things might go sideways.
Office workers tend to skip meals, especially breakfast, forget to eat healthy snacks, or worse, eat junk food as they work in front of the computer.
With a little forward planning you can make sure you have tasty things to eat at work. Cook a little bit extra at night to make a tasty lunch the next day. Transform a roasted chicken dinner into the following day's lunch: add leftover chicken to a big handful of spinach and roasted veges for a salad.
If you regularly forget lunch or snacks, have a desk drawer or locker stash of emergency foods. Store nuts, seeds, cpacket soups, two-minute noodles cups and tubs of fruit. Include a jar of chutney and a low-fat dressing, to add flavour.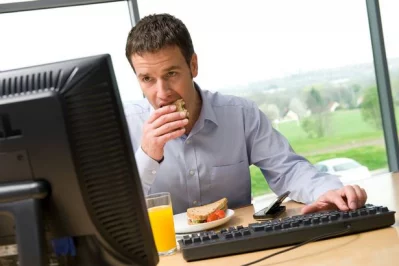 Here are some healthy nutrition rules that workers can follow in the office.
Prepare a healthy breakfast for the office
A healthy breakfast plate should be prepared with food items such as eggs, cheese, olives, multigrain bread, tomatoes, cucumber and veggies. If there is no time to have such a breakfast, toast prepared with multigrain bread and white cheese with a side of fruit is a healthy choice.
Enrich your lunch with various food groups
It is really important not to skip lunch even if work is really busy. Instead of heavy and fatty, fried foods, you should consume grilled, boiled or oven roasted chicken, meat, fish or vegetarian dishes along with legumes. Lunch should be enriched with a salad, yogurt or tzatziki. Again, multigrain bread should be preferred instead of white bread and rice, soup and pasta portions should be controlled.
Keep a box of cereal at work to ensure you don't miss breakfast. Take a packet of oats and a packet of raisins if you have access to a microwave, porridge is a great super-healthy breakfast or snack.
Stay hydrated
Instead of unlimited coffee or tea, drink water with lemon. Tea and coffee are often consumed so much during the day. When caffeine, which is found in tea and coffee, is frequently consumed, it causes dehydration and prevents the absorption of iron, which can cause an impairment in concentration. Excessive caffeine consumption can also cause kidney stones.
Smart lunching
An ideal lunch will contain the right balance of protein, sugars, fat, fibre, carbohydrates and other nutrients. A high carb meal, such pasta, bread and cereals release glucose quickly which gives you a burst of energy followed by a slump, draining our motivation and attention. Filled with fibre and vitamins, our rundown of the best healthy snacks will perk you right up so you can survive during week days in the office.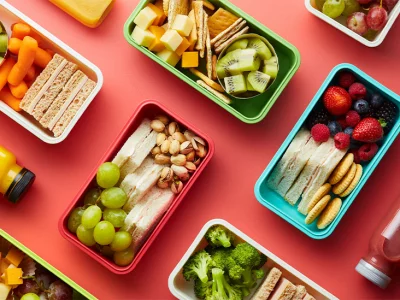 One study found that the more fruits and vegetables people consumed (up to 7 portions), the happier, more engaged, and more creative they tended to be. This is because fruits and vegetables contain vital nutrients that encourage the production of dopamine which plays a role in the experience of curiosity, motivation, and engagement. They also contain antioxidants that improve memory and enhance mood.
A good way to ensure you eat a healthy lunch is to plan ahead and shop with work lunches in mind. For example, you can shop for the elements of a big salad that will really fill you up: not just cucumber and lettuce but also cabbage, peppers and carrots.
Don't go through the day without snacks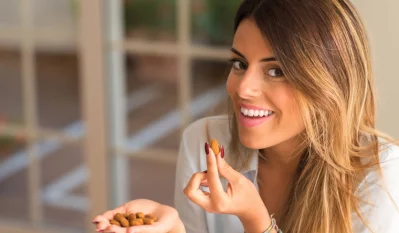 The most forgotten nutrition rule in an intense working atmosphere is to snack. Snacks have an important place in a healthy diet. In order to boost your metabolism and give you energy, two snacks should be eaten between lunch and dinner. Fresh fruits, dried fruits, such as nuts, peanuts and walnuts, milk, yogurt are ideal for snacking. You can keep them in your drawer or in the refrigerator at the office. Instead of consuming them all at once, you should eat them in small amounts.
Eat nuts and seeds, fruits and vegetables. For example, carrots, peppers, celery and even green beans make great snacks. If hunger is a particular distraction, try some of these high-protein snacks: hard-boiled eggs, yoghurt, cheese, etc.