Father's Day is celebrated every year on the third Sunday of June in most parts of the world. This year, Father's Day being observed today (June 18).
Fathers are an integral part of our family. The day is dedicated to the father who is always there, who fulfill our needs and pamper us in the best ways possible.
How did Father's Day begin?
It's widely accepted that Father's Day began in America. Sonora Dodd, a woman from Washington, is thought to have come up with the idea after learning a 1910 Mother's Day sermon and wondered why dads didn't get the same.
Others believe it was Grace Golden Clayton from Fairmont in West Virginia who came up with the concept of the day in 1908 after a mine exploded killing more than 360 men in a nearby town. She said children of those killed needed time to remember their fathers.
Whatever the reason, it's the perfect day to spend with your own dad or favorite father figure.
Things to do on Father's Day
Whether you take him out for brunch, cook his favorite meal, or just watch a movie together in your home, take heart in knowing that your dad has earned this day of celebration. Dinners out, cards, and clothes were some of the most popular categories for spending.
Bake a cake
Celebrations are incomplete without a cake. Bake your father's favorite cake because, as the saying goes, the way to a man's heart is through his stomach.
Go kart racing
For the father with an insatiable need for speed, take him out to the track for a little go kart racing this Father's Day! Places like' 'Go Kart Courtside' in Madani Avenue or 'Xtreme Racing' in Ashulia are a great way to let loose.
Head to a park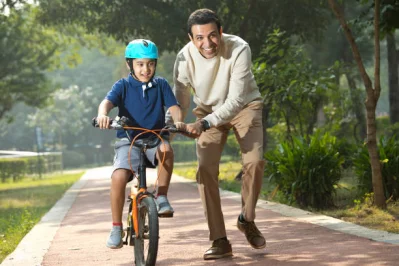 No matter what outdoor adventure you choose, your dad is going to love the opportunity to get outside and explore. Go to a nearby park or resort. Don't have a full day? A half day tour to the nearby places will allow you to see all the scenery and hit the highlights, and still have you back in time for dinner.
Take him shopping
Your dad might say he doesn't want anything, but that could change if you let him pick out exactly what he wants during a mini shopping spree.
Photo book
Photos are taken so that you can relive your memories by reminiscing about what happened at the time. You can create a photo book for your father and include photographs of his favorite memories in it, allowing him to travel through time.
Throw a homemade pizza party
Nothing beats homemade pizza. And making pizza from scratch is easier than you think and even more fun when you turn it into a Father's Day party!
Greeting card
Give your father a handmade greeting card if you're feeling a little crazy, because what's better than making your father laugh?