Eid-ul-Azha is the most important holy festival of Muslims celebrated on 10th Zil Hajj. This Eid is called the "Feast of sacrifice" to commemorate the sacrifice Prophet Ibrahim (RA) was willing to make by slaughtering his only son, on Allah's command. Nowadays, Muslims re-enact the prophet's obedience by slaughtering sacrificial animals such as goats, cows, sheep, lambs, and camels, among others.
One should be mindful of one's health while consuming these spicy and delectable dishes. To make your diet healthy on Eid-ul-Adha, it's important that you should follow some healthy tips to balance the diet.
Eat with care and in small portions
Instead of taking in one go, eat in small portions and in gaps; you can only overeat at your own peril. Although your diet craving might not be able to contain your longing to eat your favorite food, it may cause a distending and digestive problem. So, eat prudently.
Share what you eat
Eid is the festival for sharing pleasure with one another. So, share joy along with sweets with your near and dear ones. This will prevent you from eating sweets excessively, restricting your sugar intake.
Eat grilled food
Fried food is the biggest culprit that can land you in serious trouble on the important day. Consuming fried food leads to the consumption of insalubrious oil in a huge amount. So, it's best to grill good instead of frying it. Ideally, the food should be roasted in olive oil, which will help you avoid unhealthy fats that could lead to grave health issues.
Avoid overeating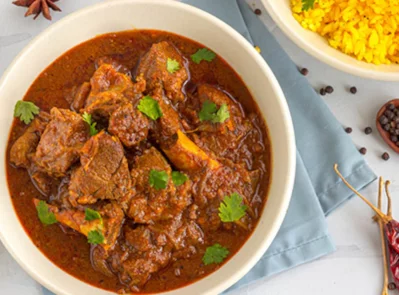 Last but not least, you should avoid overeating on this important day of sacrifice. While succulent and fresh meat is something one looks forward to, overeating only makes matters worse, forcing you to rush to the hospital. Always eat in moderation and keep fit and healthy.
Try to avoid fried meat
Eating oily or fried foods is not healthy at all as it increases the daily calories count. So try to avoid fried meat and instead take meat in the boiled, charcoaled forms. Eating Kebabs, grilled meat, and BBQ are also quite healthy choices of food on Bakra Eid.
Try to walk/exercise:
Walk or exercise in any form is very helpful in digesting the bulky protein-rich Eid diet. It's advisable by physicians that you must finish off the last meal 2 hours before the sleeping time. After that, you can go for a long walk for almost 30 minutes to make sure that the food is digested within time and you can easily go to bed feeling light and healthy. So spare at least 15-30 minutes daily for some exercise.
Avoid fizzy drinks
Fizzy drinks and meaty Eid foods make a lethal combination. But you shouldn't be drinking too many fizzy drinks as it is not healthy. Way healthier options are having lemon juice or green tea as they can help increase the metabolism rate. Tea can also be taken but without sugar.
Pair vegetables with the meat
Pairing vegetables with meaty foods is very important as they dilute the dangerous effects of consuming meat for longer hours. If you keep eating only meat, that creates jumbled up toxins within your stomach. It can easily result in an upset stomach, acidity, or on-going nausea throughout the rest of the day. So salad can be a life savior for you.
Eat in small portions
Try not to overeat at one time. One trick to eat regularly and not overeat is to eat in small portions and after an interval of at least 3-4 hours. Controlling your meaty cravings on Eid al-Adha is difficult but you must try to eat wisely. Otherwise, it may cause acidity, or bloating, or any other gastric problem.