Java Plum or Indian Blackberry, or Jamun as it is called on the Asian continent where it is originally from, is highly sought after summer fruit for its health benefits.
The purple coloured fruit is tangy, sour and astringent. It contains water, calcium, iron, vitamins A and C, magnesium, phosphorous, thiamine, riboflavin, niacin, carbohydrates, folic, fibre, fat and protein. Jamoon is also known as Indian berry, Jambolan, Java plum, Black plum and Duhat plum. The fruit, seeds, leaves and bark are used for healing.
Java Plum is used to treat several health challenges including dysentery, acne, diarrhoea, gingivitis, mouth ulceration, loss of appetite, leuorrhea, bronchitis, asthma, anemia, jaundice and heart disease. This fruit, if consumed daily, can also prevent hardening of the arteries, and liver diseases likes necrosis and fibrosis. It can increase haemoglobin count and purify the blood.
The fruit's ployphenolic compounds are effective against cancer, heart diseases, diabetes, asthma and arthritis [and] various digestive disorders – flatulence, bowel spasm and stomach disorders".
Java plum is known for its many health benefits. It helps improve digestion, aids in weight loss, and is a natural detoxifier. It's also a rich source of fiber, vitamins, and minerals, which makes it great for overall health and vitality. The best part? Java plum is a natural sweetener, so it's perfect for adding a sweet flavor to your favorite recipes without all the added sugar. Our favorite way to enjoy java plum is in our Java Plum Jam, which is made with organic ingredients and has a perfect sweet and tart flavor.
Java Plum is used to treat a variety of ailments.
Prevent cancer
The second benefits of java plum is to prevent cancer. The high levels of antioxidants in java plum makes this fruit useful to be one of anti-cancer herbs. Java plum is rich in antioxidants, which later the antioxidants will work to bind free radical cells that are the triggers of the growth of cancer cells. Antioxidants in java plum include polyphenols and anthocyanins.
Brighten the skin
No need to bother undergoing treatment with high cost or dangerous chemical drugs. Simply by eating java plum, which is rich in vitamin C will give you a smooth and glowing skin. Because java plum is rich in antioxidant compounds and vitamin C that will help the formation of collagen in the skin.
Diabetes management
Black plum possesses anti-diabetic features. It converts starch into energy and normalises the level of blood sugar. Due to its low glycemic index in Black plum, it is suitable for sugar patients as well.
It reduces diabetic symptoms such as thrusting and frequent urination.
Treats anaemia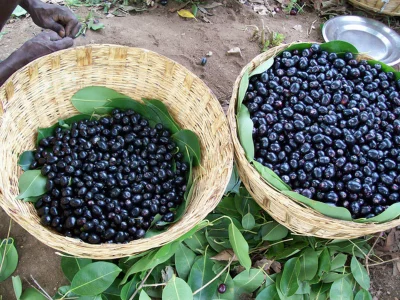 Black Plum has an adequate amount of iron and vitamin C. The presence of iron in the black plum is useful to increase the haemoglobin count. It acts as a blood purifying agent.
Healthy heart
Jamun contains a lot of potassium, which is good for your heart. It is particularly effective in preventing heart-related problems. Jamun consumption prevents artery hardening, which leads to atherosclerosis, as well as reducing the symptoms of high blood pressure and thereby regulating hypertension, as well as preventing strokes and cardiac arrests. A 100 gm serving of jamun includes 79 mg of potassium, making it a good choice for a high blood pressure diet.
Weight loss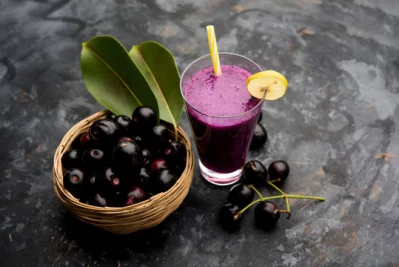 Jamun is an ideal fruit for weight loss diets and recipes because it is low in calories and high in fibre. It aids digestion, and the pharmacological effects help to reduce water retention while also increasing body metabolism, satiating appetite, and providing a feeling of fullness.
Combats respiratory problems
The fruit of the Gods is a well-known folk cure for a variety of respiratory ailments. The fruit extract has potent anti-inflammatory, anti-biotic, and anti-asthmatic qualities, making it ideal for treating typical cold, cough, and flu symptoms. It also thins and loosens catarrh particles in the chest and nasal cavities, making breathing easier and assisting the body in eliminating mucus. It is also useful in the treatment of bronchitis and asthma.