Maleesha Kharwa is 15 years old content creator, a model and an inspiration to millions of people around the world.
The slum-dweller who dreams of becoming a model and dancer when she grows up was recently featured on the cover of a fashion magazine. Forest Essentials, a pioneer of the luxury ayurvedic industry, featured Maleesha Kharwa in their latest campaign to unveil the 'Yuvati ritual box.'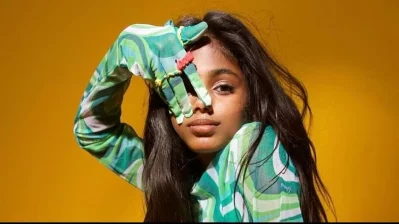 A video shared by the brand in April unveiled Maleesha as the new face of the collection that aims at empowering young minds. In the video, Maleesha Kharwa is visibly shocked and delighted to see her face on the brand's products as she enters the store. She is dressed in her school uniform and poses with posters with her face!
This collaboration is also helping Maleesha in achieving an education and helping her embrace and make the most this period of growth and learning. Additionally through the Yuvati Collection they are also contributing to Project Paathshal, with 10% of the proceeds to be donated to provide children from underprivileged backgrounds access to education. The campaign centres the idea of believing in your dreams. By promoting Maleesha's particular brand of daring they hope to inspire many more who wish to break away and forge their own path.
The talented model has been the subject of a short film documentary titled 'Live Your Fairytale' by Jas Sagu and Arsala Qureishi. It highlights the life of Maleesha and her friends, her endearing relationship with her father Mukesh – a clown impersonator at children's parties. She has also graced the front covers of multiple fashion magazines and has close association to a number of homegrown brands.
She was an ordinary girl living an ordinary life in the slums of Bandra, Mumbai. It was her courage to dream and her determination to fulfil her dreams. Her distinct quality of dreaming big drew Robert Hoffman, the Step Up 2 actor to her, while he was stuck in India during the pandemic. Hoffman made an Instagram page for her which now has over 200K followers.
Maleesha Soon became "The Princess From The Slum" and embarked on the journey of becoming a Supermodel.