Strawberries are rich in vitamin C (even more so than oranges!), which is one of the most effective antioxidants you can find. They also contain alpha lipoic acid, which is another antioxidant. Vitamin C and alpha lipoic acid also help brighten your skin for a more vibrant and radiant complexion. In addition to protecting and brightening, strawberry is a powerful hydrator and skin-softener.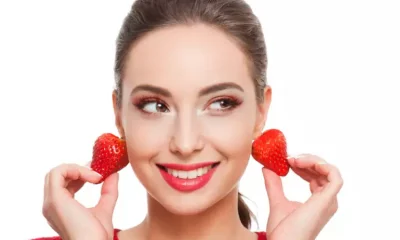 Marilyn Monroe and Grace Kelly used strawberries as a facial cleanser. This fruit was also used by ancient Egyptians to treat acne and other skin issues. Take the strawberry slices, apply to our faces, and it would leave a thin, red, serum-like film. You notice your face would glow and look so much brighter.
Skincare benefits of strawberries
Help brighten your complexion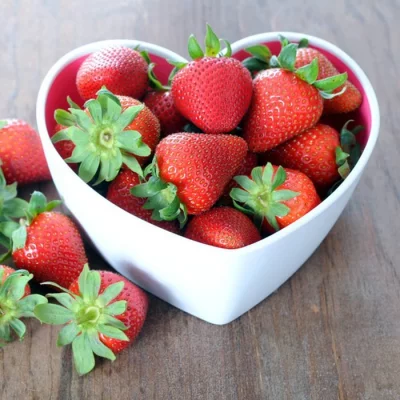 Since they're such a rich source of vitamin C, strawberries are super effective at boosting radiance and brightening lackluster skin. They also offer a dose of alpha-hydroxy acids, which has been shown to help reverse signs of aging. The strawberry fruit also contains salicylic acid and ellagic acid, which are known for reducing hyperpigmentation and dark spots.
Plump your lips
Want to smooth, soften and plump your lips before date night? It's incredibly easy to make a DIY strawberry lip scrub. Just mix together two mashed strawberries with two teaspoons of sugar, then rub gently on your lips to exfoliate. Wipe the mixture off, then pucker up!
Prevent breakouts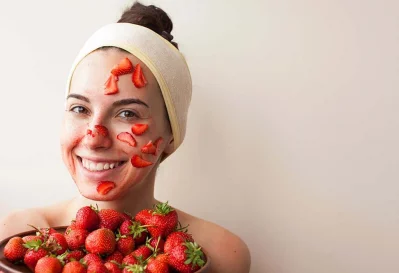 The acidic nature of the strawberry removes excess oil on the skin, a common source of acne and breakouts. Strawberries also contain salicylic acid. This ingredient is found in pretty much every acne fighting product on the market. Salicylic acid helps to unclog pores leading to cleaner, and ultimately clearer, skin. Salicylic acid is also known for removing dead cells from the skin and tightening the skin's pores to help prevent future acne breakouts.
Makes your eyes less puffy
Sometimes over aging or sleep depravity and abundance can cause puffy eyes or your eyes being swelled. If you rub strawberry slices on to the puffy area you will see that they will be fine again. The alpha hydroxyl acid and astringent property of strawberries is the reason behind it.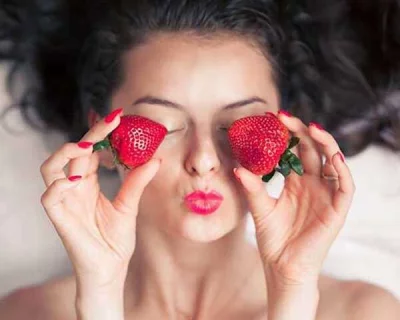 Strawberries contain amazing astringent properties that help to get rid of under-eye puffiness and visibly brighten and rejuvenate, reducing the appearance of bags and the signs of fatigue. And this fruit also helps to make the skin under your eyes look smooth and tight.
Fights the signs of aging
Strawberries contain ellagic acid, which prevents collagen destruction -- one of the major causes of wrinkle formation. Ellagic acid has a photoprotective effect that works against UV damage by stifling the production of MMPs, which are enzymes that contribute to the destruction of collagen. This prevents wrinkles from forming on the skin, keeping it looking healthy and young.
Hydrate thirsty skin
Since strawberries are packed with water, they are extra hydrating for your skin. And, once again, we can thank the antioxidants in strawberries for slowing the aging of collagen and elastin, keeping the skin soft and supple.
Strawberry is the super fruit skincare ingredients that deserves a spot in your beauty routine. Bursting with powerful antioxidants and loads of vitamin C, strawberry provides your skin with all the nourishing nutrients needed for healthy happy skin.
Soften your skin
This two-ingredient DIY face mask will leave your skin feeling refreshed. Mix two or three mashed strawberries with two tablespoons of honey, then spread on your skin. Let it work its magic for 10 to 15 minutes, then rinse off with warm water.