Happiness is not a destination, but a journey, they say. And guess what, making sure you feel happy might just be the single most important thing you can do for your health, both physical and mental, making it just as necessary as diet and physical activity.
Want to start feeling happier this very moment? Here are some easy, yet instantly effective ways to start:
Buy yourself some flowers
Fresh flowers in your house will instantly make it a happier place.
Take care of yourself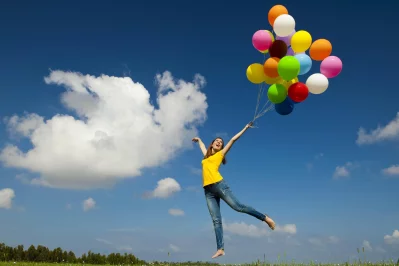 Stress and a busy lifestyle can often take over our lives and break down anyone's positive spirit. Take time out from your life for just you. Make sure you get to see that movie you were dying to watch (bring a friend or make it a date-night with you hubby), take a hot bath, head to your yoga class, get a manicure, organize a game night, book that weekend away, or do whatever relaxes and energizes you.
Call a friend
Don't text; call! Calling a close friend is a great way to talk over your worries and get advice from someone you trust.
Munch on nuts
For a mood-lifting snack, stash walnuts in your desk drawer. Or sneak fish into your salad for lunch. They're both packed with omega-3 fats, which may make people less prone to depression, and easier to get along with, say researchers from the University of Pittsburgh. They measured the blood levels of omega-3 fats (a reliable indicator of consumption) of 106 healthy adults and gave them psychological tests. Those with the highest omega-3 blood levels scored 49 to 58% better on the tests than those with the lowest blood levels.
Step into your kitchen
Even if you're not a cook, take your mind off things by exploring new ingredients or trying a new recipe. Cooking or baking a great stress relief, and the reward at the end is a delicious meal or yummy treat, so win-win!
Flip through old photos
When you're feeling down, break out your kids' baby albums or pics from your favorite vacation. It may actually make you feel happier than a square of Godiva chocolate would. That's what researchers at the United Kingdom's Open University found after they examined how much people's moods rose after eating a chocolate snack, sipping an alcoholic drink, watching TV, listening to music, or looking at personal photos. The music and chocolate left most people's moods unchanged; alcohol and TV gave a slight lift (1%), but viewing pictures made people feel 11% better. To keep your spirits high at work, upload your favorite pics to your computer and set them as a rotating screensaver. Or splurge on a frame that flips through digital photos.
Inhale a calming scent
Fill your office with a fragrant candle or diffuser to calm down during a deadline-packed day. In an Austrian study, researchers wafted the smell of oranges before some participants and lavender before others. The two groups felt less anxious, more positive, and calmer when compared with participants who were exposed no fragrance at all. Add a few drops of either oil to a room diffuser (we like the Scentball, available at amazon.com) and use in your office on stressful days.
Declutter
For a clean slate, get organized. Getting rid of the clutter and rearranging your space will make it feel new. It is also a great starting point to move forward with future projects.
Rest up
If you're having a hard time getting your mind off things, reset with a power nap. A short break will give your mind and body a rest and will help you approach things differently when you wake.
Unplug
Calm your mind by turning off your tech and escaping social media for a minute or two.