Jujubes are one of the most popular foods during winter months in Bangladesh. This fruit is regarded as an ancient superfood due to their high nutritional value. They are a rich source of vitamins, minerals, antioxidants, flavonoids and phenolics.
Did you know that our fresh jujubes contain over 100 times more Vitamin C than apples, and 10 times more than oranges? Being delicious and sweet makes them the perfect fruit for Bangladeshis of all ages to enjoy.
Jujubes which is also known as the red date contain a wide variety of minerals, including potassium, phosphorus, manganese, calcium, iron, and zinc. And both jujube fruit and seeds contain the antioxidant phytochemicals flavonoids, saponins, and polysaccharides.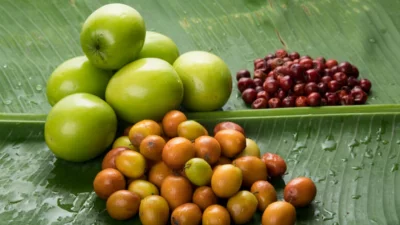 The fruit, seeds, and bark of this plant have been widely used as food and in Traditional Chinese Medicine for 3,000 years to help calm the mind and relax the body, among other things.
South Koreans sprinkle jujube over their breakfasts and add it to tea and the Chinese enjoy it as a herbal supplement to soups for vitality and longevity.
The health benefits of jujube
High levels of antioxidants
Jujube fruits have more vitamin C than any citrus fruits and they contain at least flavonoids, or phytonutrients known to strengthen the immune system and reduce damage from free radicals. The flavonoid, apigenin, has anti-inflammatory and anti-cancer properties, while puerarin has been shown to lower cholesterol levels and reduce the risk of cardiovascular disease.
Anxiety reducing compounds
Jujube seeds have been found to contain spinosin and swertish, two compounds which have sedative properties. The compound, jujuboside A, affects the hippocampus portion of the brain, which controls emotional responses. Jujube extracts have been shown to effectively relieve anxiety and insomnia, according to Nutraceutical Research.
They aid weight loss
Jujube fruits are high in protein and fibre and have a low-calorie count. When consumed, these fruits work to satisfy nutritional needs while also providing a feeling of fullness. They are beneficial in lowering glucose levels, which prevents additional weight gain, particularly belly fat.
Chronic constipation relief
The fibre content of the jujube fruit aids in the prevention of chronic constipation. Dietary fibre acts as a laxative, making bowel movements easier. It is a well-established treatment for inflammatory bowel disease (IBD) that works by improving intestinal barrier function and activating the AMPK enzyme. It also has anti-diarrheal properties due to the presence of pectin.
Regulate blood pressure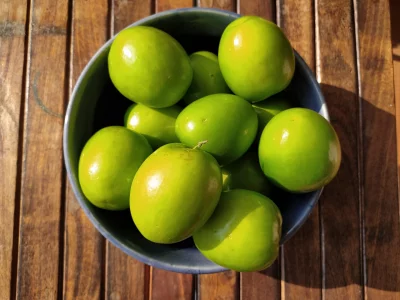 This fruit is an excellent therapy for keeping blood pressure normal. It improves blood flow to the brain by increasing nitric oxide levels and, as a result, lowers blood pressure. Furthermore, jujube fruits are high in potassium and low in sodium. This aids in the dilation of blood vessels and blood pressure control.
Improve bone strength
Jujubes might also help you strengthen your bones. These fruits are high in calcium, phosphorus, and iron, which improve overall bone strength. Those suffering from osteoporosis and other bone-degrading conditions must consume sweet and tart fruit in order to reverse the effect or better manage the condition.
Skin benefits
Jujube is known to be used in the treatment of wounds and burns. Because of its antioxidant effect, it is also known to be effective against skin irritations and skin diseases.
Cure for anemia
This fruit is known to be beneficial for anemia and those suffering from iron deficiency are advised to consume it. When consumed on a regular basis jujubes enable blood cells carrying oxygen to our veins to work more efficiently.
Improve sleep and calm the mind
Jujube works as a sedative. Two types of phytochemicals in jujube, saponins and flavonoids, trigger changes to neurotransmitters, including GABA and serotonin, which can make it easier to fall asleep and stay asleep. At least one of the saponins in jujube, jujuboside A, helps to quiet activity in the hippocampus region of the brain. And jujube contains a flavonoid compound, spinosin, which appears to trigger sleepiness through its effects on serotonin. These are some of the explanations scientists have identified to-date for jujube's sedative effects.