Sapodilla or chiku or sofeda is a tropical fruit. It is a high-calorie fruit with low fat and no cholesterol content and helps you maintain an active and healthy lifestyle.
It contains about 20gm of carbohydrates, very low fat and zero cholesterol. It contains high amounts of dietary fiber content, about 5gm per 100gm of fruit. Sapodilla also contains significant amounts of Vitamin C, Vitamin A, and other vitamins like niacin, riboflavin, thiamin, etc. It also contains large quantities of iron, copper, and calcium, along with magnesium, phosphorus, selenium, and zinc.
Health benefits of sapodilla
Anticancer activity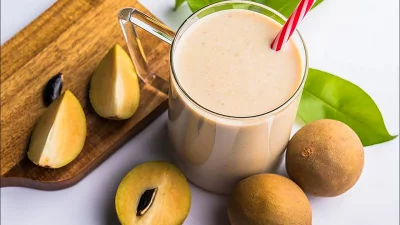 Sapodilla fruit and stem extracts contain compounds that have potential anticancer properties. Research conducted using the methanolic extract of sapodilla fruit had shown to induce cytotoxicity in cancer cell lines in a dose-dependent manner. At the same time, the extract also increased the lifespan threefold in the tumor-bearing animal. Antioxidants extracted from sapodilla fruit also displayed cytotoxicity in human colon cancer cell lines. Intraperitoneal administration of ethyl acetate extract of sapodilla bark exhibited tumor inhibitory activity against Ehrlich ascites carcinoma.
Serves as a laxative
Sapodilla serves as a laxative to clear bowel movements due to high dietary fiber content and also helps with other digestive ailments, such as diarrhea, heartburn, inflammation of the food tract, gastritis, etc.
For strong bones
Consuming sapodilla is a great source to strengthen your bones. The content of calcium found in the fruit can effectively promote bone density. Consuming sapodilla can effectively ward off factors that contribute to bone diseases such as osteoporosis. Moreover, it can do wonders for the bones of growing children as well.
Prevents iron deficiency
Nutritionists recommend regular consumption of sapodilla as it can help increase iron deficiency. Inadequate levels of an essential mineral like iron can contribute to serious health conditions such as chronic fatigue and dizziness. Consuming sapodilla promotes red blood cells and produce required levels of hemoglobin effectively. However, in case of severe iron deficiency, it is suggested to consult with your doctor to avoid further health problems.
For stomach health
Sapodilla is a powerhouse of dietary fiber that is essential to maintain your digestive system. Regular consumption of processed foods or sugary beverages aids in indigestion that chunks of fresh sapodilla can combat effectively. The nutrients found in the fruit can help relieve constipation along with other stomach problems like vomiting and bloating. Therefore, incorporate sapodilla into your routine and keep digestion problems at bay.
A source of magnesium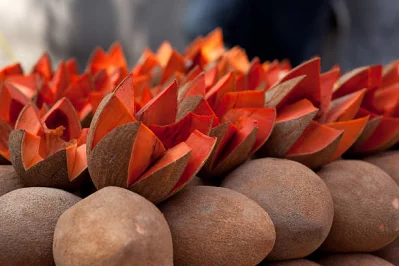 Sapodilla is a powerhouse of magnesium that can ease various body pains. If you encounter muscle aches frequently, try consuming this delicious fruit. Moreover, adequate levels of magnesium in the body can help alleviate various major or minor health problems. Incorporating sapodilla in any form also helps promote body functions effectively.
It boosts energy
You need an energetic body to stay active and alter throughout the day and to perform various tasks. Low energy levels can affect the quality of your life. Therefore, you should opt for food options that are loaded with energy-boosting components. It is said to increase your energy levels due to plenty of healthy nutrients found in it. Apart from this, carbohydrates are essential in this regard as well, and you can obtain the required amount of good carbohydrates from a single serving of sapodilla.
For eye health
Like your other body parts, you need to protect your eyes from chronic diseases. Enriched with vitamin A, sapodilla can become a nourishing fruit for your eyes. It has potential to maintain your eyesight, and regular consumption of the fruit can delay age-related eye diseases such as macular degeneration. Therefore, avoid consuming supplements and opt a natural source to obtain plenty of vitamin A to improve the condition of your eyes.

Treats cough and cold
It is said to ward off factors that contribute to cold and cough. It contains anti-inflammatory properties that help relieves congested chest, phlegm, and mucus production. Nutritionists encourage incorporating the fruit into your daily diet as it can naturally treat viral flu and fever as well. Moreover, it is suggested to add at least one sapodilla into the diet of children to prevent them from falling prey to seasonal colds and viral infections.

For oral health
You should never ignore even a minor oral problem such as bleeding gums. It could be a symptom of serious health problem. Also, lack of oral care and poor hygiene could contribute to a chronic oral problem such as oral cancer thus; you need to take precautions in this regard. By incorporating sapodilla into your daily routine, you can maintain various oral issues including cavities and tooth decay. Moreover, you can add sapodilla to the diet of your children to alleviate risks associated with their dental health.