Fasting is encouraged in many religions. For Muslims, Ramadan means a month of fasting from dawn to sunset. When it comes to Ramadan food traditions, there are tons of other dishes from around the world worth trying.
Iftar recipes can vary from country to country. Usually, Muslims begin iftar by eating dates. It is said that this was done by the Prophet Muhammad (PBUH). Others may also start with fruit juices, smoothies, or plain water. We've rounded up here some of the most popular iftar dishes.
Maklubeh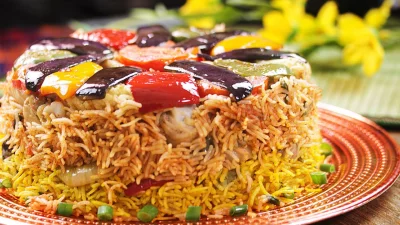 Makloubeh is a traditional Palestinian dish that consists of meat, rice and fried vegetables placed in a pot, which is then flipped upside down when served. The flavorful dish gets its name from the act of flipping the pot upside down, once it's been cooked, and removing the pot to reveal colorful layers of saffron infused rice, vegetables, like onions, aubergines, cauliflowers and lamb or chicken resting on top.
Couscous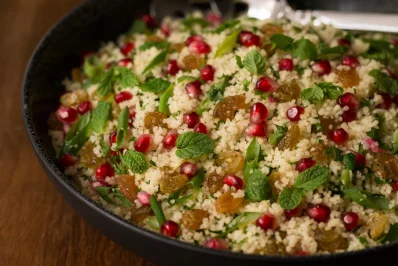 In Morocco, couscous is considered a staple of iftar. Couscous is a form of pasta made from a dry mixture of semolina and water that's rolled in very tiny irregular pieces. It's easy to cook and it also cooks very quickly. All you need is to cook the right amount of couscous in the right amount of water. Otherwise, couscous will undercook or overcook. If you are in for a bit of fun, then it is bejewelled with raw or cooked vegetable salads, beef or chicken pomegranate seeds, nuts, raisins, cranberries, spice and herbs, whatever you like. Each bite takes your taste buds on a journey through savory, sweet, and spicy.
Mansaf
Mansaf is a Jordanian dish. It is a dish of rice, lamb, and dry yoghurt made into a sauce called jameed. It's a platter of yellow fragrant rice, topped with extremely tender pieces of lamb scattered on top, sprinkled with a good handful of fried nuts and finally topped with a layer of shrak, a type of thin bread similar to a tortilla.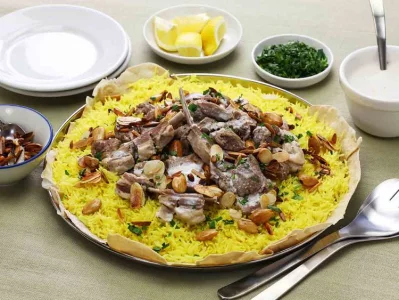 Mansaf is traditionally eaten from a large communal platter, and each person eats with the fingertips of their right hand. The rice and bread is usually formed into a ball which is moistened with the yogurt sauce.
Pakora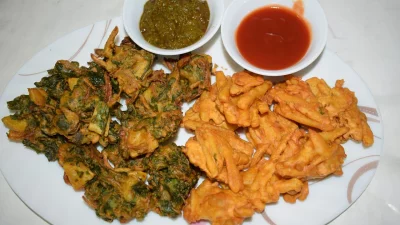 It is a popular savoury snacks during Iftar in India, Pakistan and Bangladesh. Pakora is made from gram flour, turmeric, red chili powder, salt, potatoes or other vegetables, chopped coriander leaves and finely sliced onion. There are a variety of fillings from spinach to cabbages. The whole thing is deep fried in oil and served with a dash of coriander chutney or tamarind chutney.
Shorba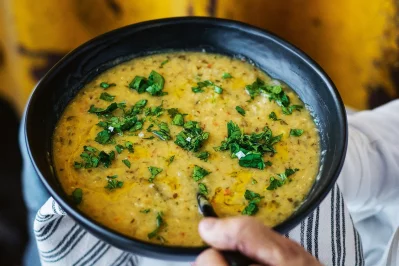 Shorba is a lentil soup popular in the Middle East. The secret of this delicious recipe is in cooking the soup long enough for the meat to become very tender and the oats to disintegrate somewhat and become very soft so that they melt in your mouth. A bowl of warm shorba is a great way to break your fast.


Harees

Harees or Harissa is a popular Arabic dish that is usually cooked in the month of Ramadan. This highly nutritious dish is usually prepared with soaking the wheat or barley overnight and then boiling it in water with butter until a thick, porridge-like consistency is reached. Meat, cinnamon, salt, pepper and other spices and vegetables are added once the wheat is fully cooked. Tender threads of meat in porridge is all you need to instantly lift your Ramadan mood.
Ramazan pidesi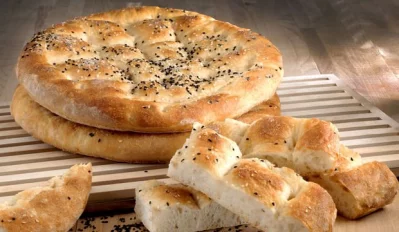 This scrumptiously circular bread comprising white flour with yeast, rub with egg wash, and topped with black sesame seed. Milk is added to the dough to make it soft. It is usually served with olives, cheeses, butter and pastirma beef. Traditionally associated with Ramadan, this bread has a dense texture that Turkish is so fond of.
Fatteh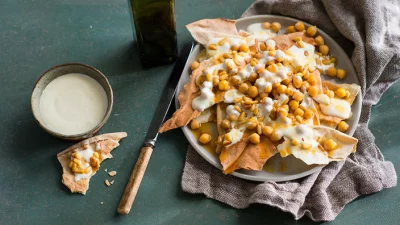 Fatteh is an Egyptian and Levantine specialty made by crispy pita bread beneath chickpeas and a luscious garlic-yogurt-tahini sauce. In Egypt, it's topped with rice, tomato sauce, garlic, and vinegar, while in the Levantine version is traditionally topped with yogurt, chickpeas, olive oil and cumin. After the main toppings, Levantine fatteh can additionally be topped with chicken, lamb or pine nuts.
Qatayef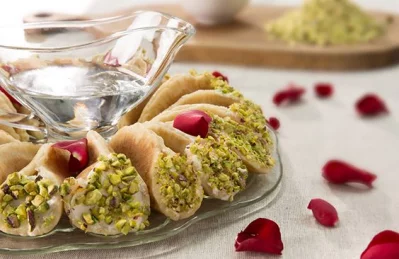 Qatayef, a traditional Arabic sweet, which is fried on one side and fluffy and airy all around, Qatayef is folded into a crescent and sealed to prevent the fresh unsalted white cheese, cream or crunchy nuts filling from spilling, while releasing a magical aroma of rose water extract.
Kolak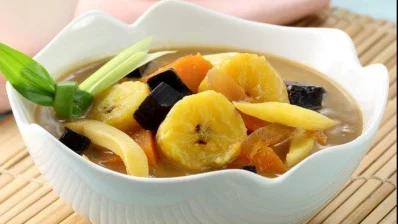 Kolak is an Indonesian dessert. It is a very popular opening dish during Ramadhan because of its super-sweet taste and is highly recommended to increase blood sugar levels after long hours of fasting. It is a brew of coconut milk, mixed with palm sugar, flavored with pandan leaves, and filled with slices of banana, sweet potatoes, and optional pumpkins.
Cendol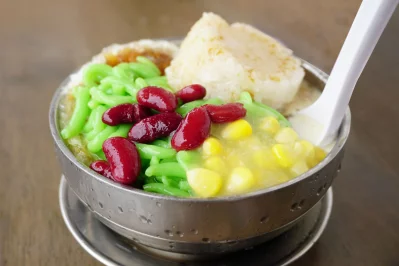 It is a Malaysian dessert consisting of mung bean flour or a mixture of rice flour and tapioca flour and coloured with pandan essence. The noodles are accompanied by an assortment of fruit, creamed corns, red azuki beans and jelly cubes and topped with coconut milk, shaved ice and palm sugar syrup. Cendol is is sure to fix your Ramadan cravings.
Kunafa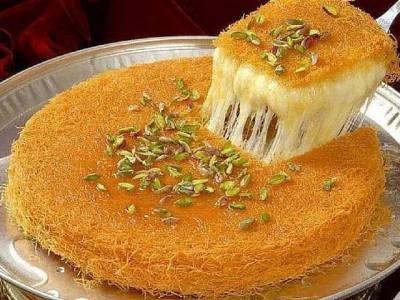 Kunafa is an Egyptian dessert. It's a shredded filo pastry soaked in sweet, sugar-based syrup, and typically layered with cheese, or with other ingredients such as clotted cream or nuts, honey, chocolate or even fruits.
Jilapi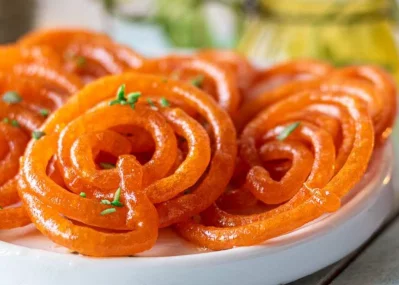 Jilapi or Jalebi is a spiral shaped crunchy dessert which attracts a lot of attention during Ramadan. For Bangladeshi people, iftar wouldn't be complete with jilapi. The batter is prepared from flour and yogurt and it is fermented for 24 hours. After that round spirals are made from the batter directly into hot oil and deep fried until crispy and soaked in warm sugar syrup. It hits your taste buds with crunchy taste outside and juicy inside. Some use clarified butter for extra flavour. This is also popular in India and Pakistan.