Eid is the perfect time to try something different and spice up your look. Eid in Summer means cool tones and flowy silhouettes. Pastels and metallic colours rule in this Eid. Complete the look with minimal gold accessories and dewy makeup.
Before get start your outer makeup it's necessary to clean your skin internally. For this do proper scrubbing, cleansing, toning and moisturizing. Followed by Sunscreen SPF30 and Vitamin C Serum. Vitamin C serums are designed to brighten the dullness and target specific dark conditions, such as spots and acne scars. It will make your skin fresh throughout your Eid day. Look your best this Eid and get in the festive mode with glam make-up looks. From shimmery eyes to glossy lips, this occasion also calls for sprucing up your make-up routine.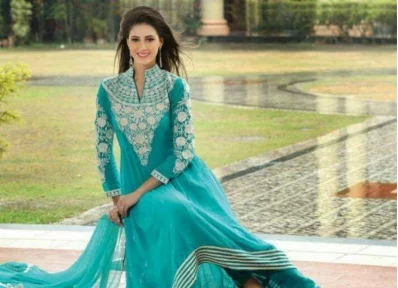 First apply primer on your face as it will moisturize your face and make your face oil free which helps your entire makeup to last longer throughout the day. Leave your face to rest for five minutes and then apply face powder or pan cake according to your skin tone, more under your eyes to hide your dark circles. You don't need to use foundation in day time as it may makes cracks or patches and melts your make up during cooking. Remember, it's not necessary to put all the makeup things on your face, sometimes simple basics of makeup can make you beautiful rather than applying all makeup products. You may go for foundation and concealer in evening or night party.
If you're a pro at drawing a beautiful cat-eye liner, let's make it look to a higher notch. The fluttering lashes just add to the drama and make it look all the more alluring.
It is summer and the weather is so hot that the 'no makeup look' would be just ideal for Eid. A natural and subdued base with simple eyes using soft eye shadows like beiges, golds and silvers with mascara. Avoid eyeliners for the day look. For the lip colours also opt for soft shades like nudes and soft pinks.
The sharara suit looks perfect for the occasion of Eid. Choose sharara in many different colours and designs. Complete your look with earrings and bangles.
If you're going for traditional suits, pick heavy embellished ones. Pick zardosi styles or sequins all over. For such heavy pieces, you can keep the rest of the look minimal and let your ensemble shine!
If you're planning to wear a traditional white and gold outfit this Eid. Apply light blush and pretty pink pout.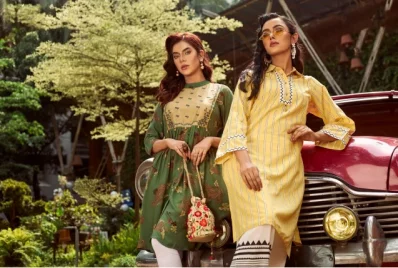 Go for stylish jacket styles shalwar suits at night. These can be in Anarkali suits with long sleeves jackets or a shorter waist-length jacket. Cape jackets or long shrug jackets for eid are more in this season. You can also go Indowestern by adding pants, short kameez, and long jackets to your looks.
A silk palazzo pants with short Anarkali top for an Indo fusion look and a dupatta in pretty pastel shades will make you stand out.
And for saris, chanderis and banarasis to silks and bandhanis, handwoven saris always look so elegant. Opt for tissues and organzas at nights when the look needs to be festive, grand and chic. With embroidery or printed, these fabrics never fail the vibe of the occasion. Local hand-loomsari is also good for this Eid.
You can experiment with braids like twist braids, fish tails, half loose-half braids or French tails during the day. You can open your hair at night with straight blow dry or soft curls or take a small portion of hair and make it into a half knot, and keep the rest of the hair loose.
Simple necklaces with delicate pendants, chain bracelets, metallic earrings for a dressy look. Take pouches, potlis and clutches for festive look.
Eid festivities are not complete without applying henna on hands. So adorn your hands with beautiful henna designs and celebrate the Festive Day!