Want to spend a weekend a little differently? Think no further because after Eid, it's time to take a short trip near the city with the people you love.
Baliati Zamindar Bari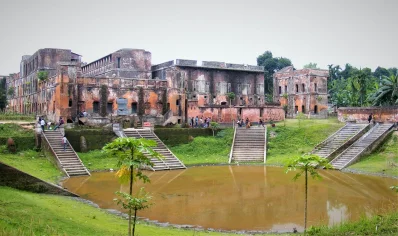 Baliati Zamindar Bari is a majestic structure famous for its Roman style architecture. The beauty of the palace draws architecture and history buffs in large numbers, but even locals visit to absorb the regal vibe of the attraction. It is located in Saturia Upazila in Manikganj district.
The palace is divided into four blocks inhabited by the four successors of the zamindar. It is nestled amidst lush greenery, ponds, and a statue of a roaring lion. Govinda Ram Shaha is the founder of the place. His four sons Dadhi Ram, Ananda Ram, Pandit Ram, Gopal Ram built all the buildings which are currently present in the Baliati Zamidar Bari as some buildings are an extended version of the first zamindar Bari.
Sonargaon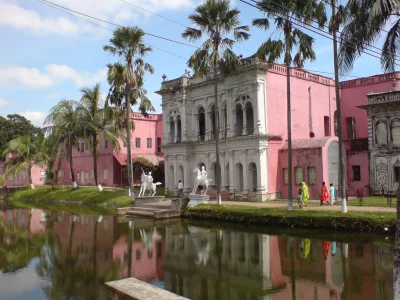 Sonargaon is the old capital of Bangladesh. It is 30 km away from Dhaka. Many travelers enjoy Sonargaon for the art and go to see the Folk Arts and Crafts Museum, Panam city, the goaldi mosque, sardarbari palace and Jamdani village. You can also opt for boating in the Meghna River.
Bangabandhu Sheikh Mujib Safari Park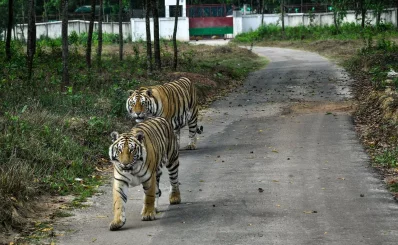 Situated in Maoana Uninon, Sreepur upazila of Gazipur district, Bangabandhu Safari Park is the largest Safari Park in Asia. Opened in 2013, it is also known as Gazipur Safari Park.
Visitors flock to this park to witness the tiger in all its majestic beauty. One can spot the barking deer, spotted deer, lion, bear, African Leopard, Hippo, Neelgai, and different types of animals here. Thousands of birds are another major attraction in this park. The wild animals have been surrounded by two-inch glass walls. The safari park nestled in 3690 acres of land. The park is divided into 5 main parts. For example, Core Safari, Safari Kingdom, Biodiversity Park, Extensive Asian Diversity Park, and Bangabandhu Square. There is a watch tower in the park to watch the beauties of the park.
Nuhash Polli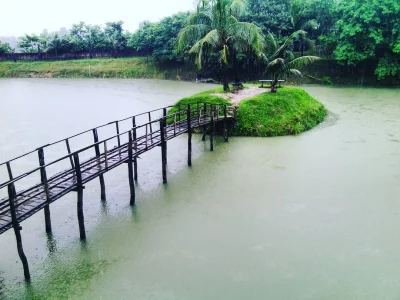 Known for its natural beauty and resort, renowned writer Humayun Ahmed built Nuhash Polli in Gazipur on 40 bighas of land. It is a unique place where parents can come and enjoy a comfortable atmosphere while their children play freely. A tree house is bonus for kids.
The destination is reputed as a picnic spot. Explore the Nuhash Polli, which offers a relaxing setting to enjoy a large number of sculptures. There is a wooden bridge over a large pond. It adds elegance to the park. Nuhash Polli is home to 250 tree species. An oval-shaped swimming pool is the ideal place for you to relax and recharge your batteries. A hidden treasure with stunning natural splendour, Nuhash Polli can really be one your highlights in Gazipur.
Golap Gram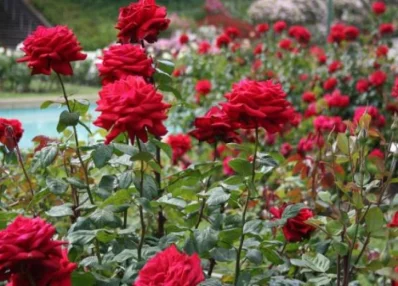 The village Sadullapur in Birulia Union is known as Golap Gram or Rose Village. It is located in the Savar Thana. If you are a flower lover and want to take stunning photos of gorgeous flowers this summer, these fragrant rose fields are the perfect travel destinations for you. In general, this Golam Gram meets the need for flowers in Dhaka City. The cool breeze would clear your mind and make you battle-ready for the post-Eid depression. Certainly, you won't get bored. Just one hour and 30 minutes drive from Dhaka, you'll reach this stunning village.
Moinot Ghat Beach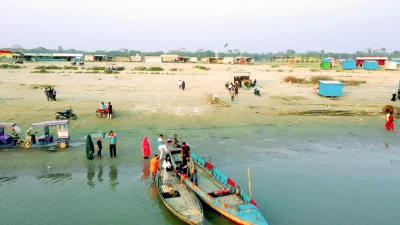 Are you fond of beaches? If yes, then head to Moinot Ghat Beach which is just 61 Kms away from Dhaka and marks for a great weekend getaway. It is located on the bank of Padma river in Dohar Upazilla. Moinot is a small quay which is familiarly known as Mini Cox's Bazar. Surely, you will be fascinated by watching the wonders of Padma rivers. The fisherman on the river and the surroundings will give you some interesting moments here. Similarly, the scenery of sunset is really enjoyable. For taking the real taste of fresh fishes, you can also enjoy the full afternoon by riding in a boat.
Mawa Ghat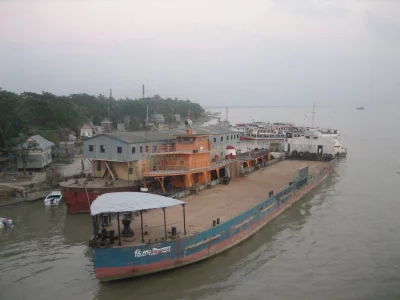 Mawa Ghat, located on the banks of River Padma is a pocket-friendly and breezy trip near Dhaka. With the magnificent view in the background, watching the sunrise or sunset and taking a long walk in the cool air on the banks of the river are some of the preferred recreational activities here. In between exploring the attraction, if one feels like eating a fresh Hilsha fish, there are several food kiosks to choose from that serve scrumptious local snacks.
Sunflower park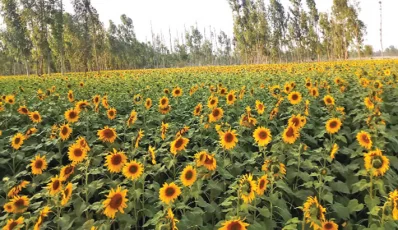 Sunflower Park caters for all your holiday needs - appealing to couples and families alike who seek a peaceful holiday in secluded, picturesque surroundings. The vast landscape of beautiful yellow flowers turn their bright faces to follow the sun.
The park is situated on the banks of river Meghna at the western end of Nagariakandi Sheikh Hasina Bridge in Narsingdi Sadar Upazila. Visitors are flocking from different places to spend some time in this captivating environment. These visitors make significant economic contributions to our local economy. The entrance fee to the park is TK 20.