Lip plumping is all the rage today, and everyone loves trying hacks to make their pout appear fuller, especially without expensive and invasive fillers or surgery. With plenty of pillowy curves and the right lip color, a plump pair of lips can be the centerpiece of your look.
There are a few things you can do to help prevent your lipstick from transferring in the first place.
Exfoliate with lip scrubs
In order to get your lips plumped, you have to prep them. By using small circles on the lips and then rinse and then use a vitamin C lip treatment to hydrate and moisturize. Make your own scrub using pantry items such as coconut oil and brown sugar to eliminate dry skin. Prepping lips with a lip scrub to buff off any dry, dead or flaking skin, followed by a moisturising lip balm to hydrate and soften lips.
Exfoliate and moisturise those lips. Our lips don't naturally stay soft and smooth, especially during the winter when we suffer from seasonal dryness.
Keep your lips moisturized
Keep your skin plump and supple with hydrating and conditioning lip products. Much like the rest of your skin, moisturizers will keep the area looking plush and healthy. But the delicate lip area in particular is thinner and more sensitive than other areas (much like the eyes!), so it may need a bit of extra care.
Look for options that contain botanical oils, butters, antioxidants, and plush waxes. Butters—like cocoa and shea—provide a softening texture. Oils and lipids feed the skin fatty acids and can add a protecting coat for the barrier. Antioxidants help fight free radicals. And waxes can help harden the base, as well as make the formula more occlusive.
Stay hydrated
Drinking plenty of water is beneficial for pretty much every part of your body — your lips are no exception. Your thirsty skin cells soak up water like microscopic sponges. When your cells are happy and quenched, your skin looks plump and youthful, especially the skin of your lips.
Apply lip balm

For best results, apply the balm to settle on your lips for at least 10 minutes to fully absorb before you continue with your lip routine.
Start with a lip primer
Next apply a lip primer or concealer to create an even canvas for flawless coverage, not to mention boosting the staying power of your lipstick.
Certain lip primers have the added benefits of hydrating or plumping lips, while others are said to help prevent feathering. You can also use a light layer of cream concealer to neutralise your natural lip shade, meaning you'll achieve a true-to-tone hue straight from the bullet.
Don't skip lip liner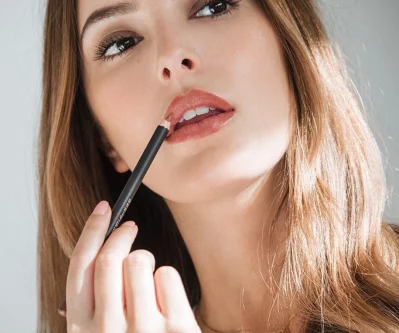 To maximise the staying power of your shade of choice, apply lip liner all over your lips, giving your lipstick something to cling to, followed by your chosen lip colour.
Highlight with gloss
This two-second trick will help draw attention to your lips. Grab your favorite clear lip gloss or a pick shade that matches your lipstick color, then apply a dab of the gloss onto the middle of both of your lips. The shimmery product picks up light, making your pout look fuller.
Avoid creamy and glossy formulas
Many liquid matte lipsticks settle into a soft, powder-feel formula, meaning they're less likely to smudge under your mask.
Add a contour shade under your bottom lip
This hack is a hidden gem among the beauty community, and with good reason. It's super simple and quick to do! After you've applied all your lip products (we know you use more than one), take a powder contour shade on a small fluffy brush and run it under your bottom lip. This will cast a slight shadow under your lips and make them look poutier. Tap into your contour shade lightly, you can always add more later if you need to!
Use lip masks
Lip masks are a fun, quick way to give your pout a perfect plump. Most lip masks on the market are infused with collagen, which helps minimize the appearance of fine lines and makes your lips smoother. Some are designed like sheet masks — these are meant to be placed directly on your lips for a few minutes so the collagen (and other beneficial ingredients) can sink into them. If you're not into the idea of placing a gel mask on your lips, you can opt for an overnight mask that applies like a lip balm.
Set it with some loose powder
Place a one-ply tissue on top of lip colour and dust a loose translucent powder over tissue. Dust lightly translucent loose setting powder to absorb excess moisture from your lipstick and lock it in place.