Rose water is an amazingly effective skin care ingredient, known for its nourishing, skin-soothing properties. It has been used for thousands of years to keep people looking youthful and refreshed.

Rose water is something we all use on a daily basis and it is that versatile ingredient which is suitable for every skin type. Apart from being a toner and the magic water for your DIY face masks, this beauty tonic has a gazillion other uses. Keep a small spray bottle of rosewater in your handbag to spritz on your face or in your eyes when you feel overwhelmed by the heat.
Give your skin a moisture boost
Rose water rejuvenates your skin by giving it back the moisture and hydration. A great way to fight dry, dull and lifeless skin is to use this beauty potion at least once a day. Spritz it all over your face and let it soak into your skin.
Work as anti oxidant
The antioxidants in rose water protect your skin cells against damage caused by pollutants, UV rays, and other free radicals in the environment. It is known for its ability to help people defy age. These same antioxidants can also be used for an anti-aging effect by reducing the appearance of fine lines and wrinkles. It can even temporarily plump fine lines and even help to prevent new ones from forming.
As a makeup remover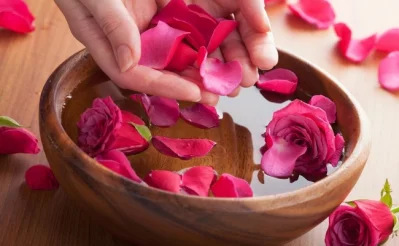 If you have dry and sensitive skin, then finding a makeup remover that suits your skin can be a real task. The natural astringent properties of rose water coupled with its nourishing and hydrating properties is a great way to gently and effectively remove makeup without being even a tiny bit harsh for your skin.
Use rose water after-shave!
Goodbye to all the skin burns and rashes that we tend to get after shaving those legs. Rose water calms your skin, soothes the irritation and reduces inflammation. Spritz rose water on the shaved area right after you're done to see the best results.
As a hair rinse
Hair rinses are a great way to end your hair wash as they help to seal the cuticle and deliver your hair with that extra boost of shine and hydrating. Using rose water as the final hair rinse helps to provide a deep conditioning effect and gives it a boost of natural shine.

Balances skin's natural oils
Rose water is known for its ability to clarify and balance your skin, leading to a refreshed, revitalized appearance.
Minimizes the appearance of large pores
It can help balance oil in our skin, it keeps your pores from getting clogged and appearing larger.
An eye relaxant
People who work for long hours on the computer usually have dry burning eyes. Cotton pads dipped in chilled rose water help to cool and depuff the eye area.
As a drink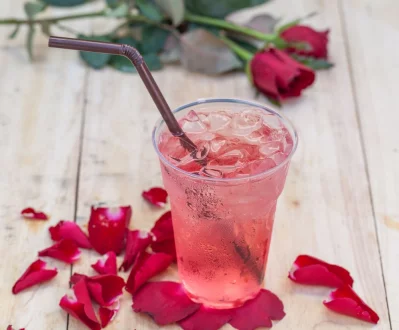 Rose is cooling for the body, which is why it is used in so many drinks such as thandai. However, if you don't care of the sugar content of these beverages, you can freeze crushed watermelon, rosewater and rose petals in ice cube trays and add them to a glass of chilled water or soda to cool your system from within.
As a face mask
Take a handful of rose petals and crush them manually. To this, add the petals of three marigold flowers, which have antibacterial and anti-blemish properties. Lastly, mix a pulped, two-inch cube of papaya to smoothen and exfoliate your skin with its natural enzymes. Apply for 20 minutes on your face and then rinse off.
As a bath soak
Pamper yourself after a hard days work by filling your tub with water, adding some milk and fresh rose petals. This mix is softening, it tones up the entire body and is very relaxing. Rose fragrance is used to calm people who have jarred nerves, which is why a lot of healers use it to remove negativity.