Commonly known as amra, the hog plum is better known for its medicinal properties. The fruit has tremendous amount of Vitamin C and iron that's good for you. The fruits, bark and leaves are often used to treat several ailments.
It is a plant that has obvious and promising health benefits.The bark, the flowers, the leaves and the fruit, are good for digestion, regulating blood cholestrol and keeps heart healthy.
Acidic when unripe, the fruits are either cooked, pickled or eaten raw. It's also a popular substitute for other souring agents such as tamarind or lemon. Use it to add a hint of tanginess to that fish curry or to uplift the regular dal. Just crush the fruit with a gentle blow of a stone grinder for a flavourful twist to regular dishes.
Good source of iron
Amra contains iron and traces of Vitamin B1 which are important components for the formation of red blood cells that increases the flow of oxygen. This prevents anemia from occurring.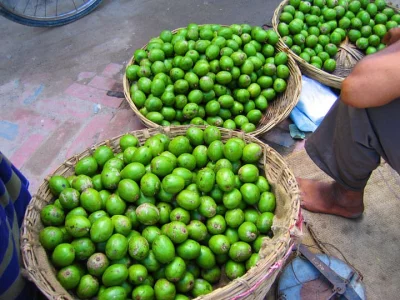 It is also believed that amra is a natural ingredient to boost haemoglobin levels. Amra leaves and bark are widely used in South America for women with reproductive problems. The leaves are treasured by midwives in particular, for treating bleeding during childbirth, menstrual cycles and other related conditions.
Lower back pain and rheumatism
Both the bark and flowers are used. The flowers may not be readily available and so you can make do with the bark alone. An infused oil of the leaves is also beneficial and used as a local massage to reduce muscular and rheumatic pains of the joints.
Enhances bone health
Thiamine is one of the vitamins which could be found in hog plum, and it has a lot of functions it performs in the body, with one of them being its ability to help in muscle contraction and conduction of nerve signals.
It is a fat-free, sodium-free, cholesterol-free fruit and a good source of vitamin K that helps in proper bone health. The vitamin K does not only helps in blood clotting, but it also helps to improve the bones by making them strong, thereby helping in the prevention of bones health conditions like bone fractures, etc., its effects on osteoporosis has not been proven medically, though most people take it for this cause.
A good antioxidant
Amra has a good source of Vitamin A, C, and K which are good natural antioxidants. Antioxidants reduce or neutralize free radicals that may damage the eye lens which leads to vision loss, arthritis, damage to nerve cells in the brain, activate cancer cells, and more.
Improves the Immune system
Amra has a high source of Vitamin C. This boosts the immune system and helps with wound healing, and slows down aging. A good immune system helps the body to fight against bacteria, viruses, and diseases that damage the functionality of a fully healthy operating body. Vitamin C also improves the absorption of iron in the bloodstream, essential for healthy red blood cell synthesis as well as preventing anemia and fatigue.
Cures Digestive Issues
Ambarella is packed with beneficial antioxidants such as flavonoids, terpenoids and tannins. These work in synergy to foster easy digestion, besides treating a host of common gastrointestinal complaints like bloating, indigestion, flatulence. The best time to eat ambarella is before a heavy meal of breakfast or lunch, to help activate gastric juices in the stomach and facilitate smooth assimilation of food.