Autumn in Tarash is amazing. Lotus, the queen of aquatic flowers has bloomed after many days in the Sirajganj's Katal bill of Shakua Dighi village area of ​​Naogaon union of Chalan Beel dominated Tarash upazila. There was only a few lotus flowers bloomed in Dobila Bill of Magurabinod Union in Tarash last year.
Awareness is being raised locally by miking not to pick up the lotus flowers.
Right in front of the vast fields north of Shakua Dighi village, you can see numerous lotus flowers are blooming. It's so full of lotuses, the water in the pond seemed to disappear from sight. Pink flowers seem to complement the beauty of the beautiful area around the village.
"Md. Jamal, Professor of Botany of Rajshahi University researched the current account from 1985 to 1987. He saw lotus in various areas of Chalanbil-dominated Tarash at that time. But after that the researchers of Botany Department of Rajshahi University did not see any more lotuses," said Professor Dr. Sabrina Naz, Director of Rajshahi University Institute of Environmental Science.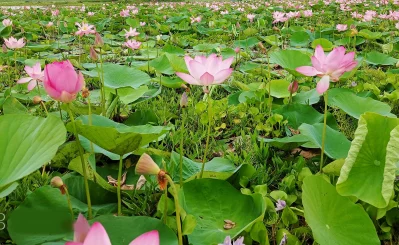 The existence of this lotus pond is the main attraction for visitors to come to Tarash.
People also visit the lakes to collect fresh flowers, which are used in several medicines and are said to be good for stomach-related ailments.
The lotus flower is also used in cooking in several areas.
"This is the first time a lotus has been seen in Katal Bill. People are very happy with it. People are being informed not to spoil the lotus flowers from the microphone of the nearby village mosque," said Abdus Salam, a resident of Shakua Dighi village and a local journalist.
"The biodiversity of Chalanbil is under threat due to various reasons. If there was water in the bill like before, maybe the beauty of the lotus flower would have spread on the entire bill", said Abdur Razzak Raju, convener of Tarash Upazila branch of Chalanbil Raksha Andolan Committee.