It is important to have a healthy lunch meals to keep you full and focused throughout the day. Prepare a lunchbox that is packed full of protein, fibre and vegetables.
Prepare in advance and store in the fridge or freezer. Pack hot food in a pre-warmed thermos (filling the thermos with hot water while you prep lunch is a good way to do this) or in a microwave-safe container so that it can be warmed up again before eating. Don't take smelly lunch or popcorn!
Avoid sogginess
allow items like pastries, samosas, egg rolls, or grilled sandwiches to cool down before packing them, to prevent them from getting soggy in your lunchbox.
Keep cold food cold
Pack food that must stay cold with an ice pack. Even better, pack food that must stay cold the night before, and put the whole lunchbox in the fridge (then add an ice pack in the morning before you go).
Freshness first
Separate sandwiches, waffles, pancakes, or any of the warm items noted directly above with some parchment paper or reusable wax wrap, or in a sealed-off section of your lunchbox, to keep them nice and fresh.
Leak prevention
If you are using a bento-style lunchbox that has a divider but is not sealed at the bottom. Line sections with parchment paper or reusable wax wrap or use a silicone cup to contain anything that could leak from one section to another. Be sure to seal off sections containing salads, curry or rice over from other sections to prevent anything from migrating over to the fruit or cake you have packed!
Variety is a key word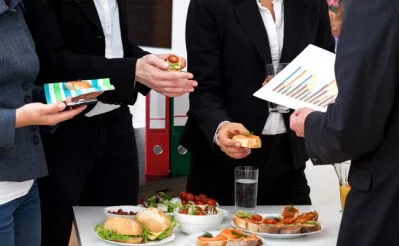 A wholemeal wrap with chicken slice and cheese or a flatbread with some mustard sauce for dipping is good. Add the falafel to pita bread or a kebab to flatbread with a dollop of sauce and your lunch is ready! Instead of doing a regular pizza, make a pizza with leftover naan bread.
Crepes are easy to prepare at home. You can make them sweet or savory, and they can be eaten cold at lunch.
Make sure you eat fruit
If you are looking for something sweet, take some dried mangoes or dried fruits and yoghurt. Use skewers or toothpicks and skewer apple, guava, and pineapple. Mixed fruit parfait is also good option for lunch. Take a small disposable clear cup and add layers of fruit and yogurt.
Snack packs of almonds, walnuts or unsalted mixed nuts
It's good to snacking on nuts but have to watch your intake. If you have high cholesterol, nuts make the perfect go-to snack as they deliver heart-smart nutrients like monounsaturated fat, fibre, magnesium and vitamin E.
Tiny tins of tuna
Tuna's ring-pull lids make them easy to open and there are some with almost no liquid which saves a
messy desk. Keep a couple of plastic forks handy so you can down one. High in protein, zinc and iron which most women need. Don't forget there are now combo-packs of wholegrain crackers packaged up with tinned
tuna which are so handy.
Crunchy peanut butter
Spread it on bread or wholegrain crackers. A small jar is a great stand-by in the office.