If you want your makeup to last in warmer weather, ditch the oil pre-makeup. As soon as a water-based product hits oil, it's going to separate. Even if you have super dry and/or flaky skin, as soon as you sweat, the oil underneath your base product will freak out.
Treat your skin with respect, love and the targeted attention it needs is key. Without it, faces appear dull and dry - plus, no matter how much make-up you put on, you'll never look glowy or fresh! For this, the absolute basics are a serum or oil and a top moisturiser with SPF!
Do the prep work
Before you fix your makeup, you need to stop perspiring. If you want to lower your body temperature faster, try holding something cold to the back of your neck.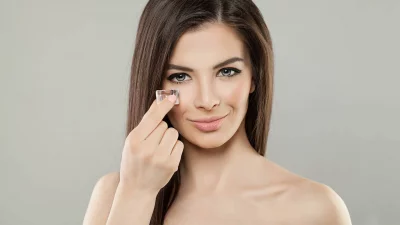 Ice your face or cold compress before putting on the makeup. Applying makeup to warm skin makes the skin absorb the makeup more rapidly, using up all the products too soon and leaving the skin blotchy and patchy.
Icing the face right before applying the makeup not only shrinks large pores but also helps to keep the foundation in place longer. Either rub ice cubes on your face or splash ice cold water a couple of times before starting the makeup.
Use an oil control toner
An oil controlling toner will help to keep the shine especially on the T-zone at bay and make the makeup last longer. Keep the toner refrigerated for best results and spray right after washing your face.
Layer on sun protection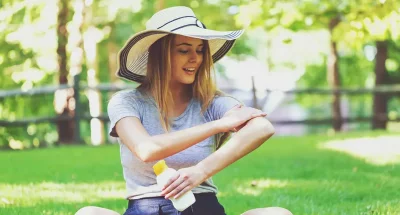 Sunscreen protects your delicate cells from harsh sun rays that is extremely damaging over the course of the summer. Wear broad spectrum SPF 30 or higher sunscreen every single day, even under your makeup. Re-apply sunscreen every two hours.
Invest on serum
Work a pea-sized amount of serum or oil all over the face and down the neck. The serum not only hydrates and nourishes the skin, but also leave it radiant.
Once the serum has had the chance to be fully absorbed, apply another pea-sized splodge of moisturiser or sunscreen to the face and neck.
Prime time
Primer smoothes over the skin giving an even texture to which all your other products can hold on to. It will stop any kind of slipping as it gives make-up an invisible layer to hang on to. Make sure you rub it all over your whole complexion, including eyelids and right into the corners at either side of the nose.
Wear less makeup
A light coverage base is all you need in summer. A lighter coverage look prettier in the summer as well as it lasts longer as heavy bases melt off quicker.
For a fresh and dewy finish, apply BB Cream with fingers or a sponge from the nose outwards. Blend a tiny amount of concealer stick over spots, around the nose and under the eyes – patting, rather than rubbing, it into place with your fingertips. Patting helps to minimalise streaks in your make-up, helping you achieve that perfect look.
Glow up with bronzer
When working with bronzer, don't overload your powder brush. Swirl a little bronzer over the high points of your face - tops of cheekbones, temples, hair line and across the bridge of the nose. Then use a clean brush to blur the lines.
Volumise your lashes
Keep your lashes looking long, luscious and smudge-free by using a waterproof mascara in the summer months. While regular mascara tends to break down, flake and smudge in humid conditions, a good waterproof number will bypass all this, leaving you looking fabulous.
Enhance the foundation
Mix your regular liquid foundation with a mineral based liquid sunscreen, equal portions work best, but for a more radiant finish mix 1 part foundation with two parts sunscreen. Apply mixture evenly across the skin. Massage into the skin until there is no trace of the white finish allow to set for about 10 minutes or longer if you can.
Followed by light dusting of loose powder. This will absorb any sheen as the day goes on, keeping you looking fresh no matter how hot it is outside.
Lip trick
Opt for a brilliant nude lip liner that won't budge. Lip liners are a great option for summer as they don't have the 'melted' consistency as lipstick when they heat up. Work the lip pencil around the lip line, making sure to keep your cupid's bow defined, then blur the nude shade into the rest of the lip with your fingers. Slick over a layer of balm.
Waterproof everything
Make sure your make up waterproof so they don't streak down your face when you perspire. When it comes to blush, a cream blush or tint is going to last better than a powder formula that might cake or get patchy.
Finish with a setting spray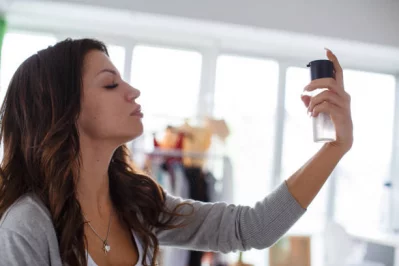 The final step in getting your makeup to last all day and night is to spritz on a makeup setting spray to seal in your look.
Clean up any mess
Blot your face to remove excess moisture or shine before you assess what else needs to be touched up. It's important to clean up patches that look particularly greasy as well as anything that has been smeared or is looking cakey.
Pack a few sheets of paper towel in your purse. Always remove excess oil first with a blotting paper (or paper towel if you don't have one), then re-apply your powder to touch up. Don't reverse these steps or the powder will sit on top of the water making makeup look cakey.
Use brush instead of sponge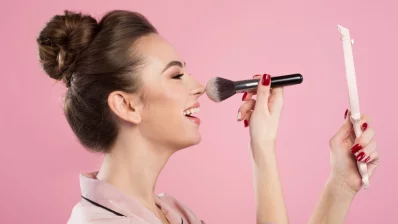 Carry a miniature makeup brush to apply powder. Sponges can sometimes make foundation touchups look a bit cakey. It also doesn't hurt to keep some Q-tips on hand to remove any mascara or eyeliner that's ended up in the wrong spot.