Known to be a great source of vitamin C, oranges are also rich in vitamin A, calcium and potassium. While orange is a citrus fruit that can be found all year long, they peak over the winter months.
Among all citrus fruits oranges plays an important role on your winter table. It is a great source of antioxidants and it boosts our immune system and helps to combat illness. The peel is rich in beta carotene and vitamin E as well as precious aromatic essences.
There are a myriad of ways to make good use of orange peels.
Zest up your meals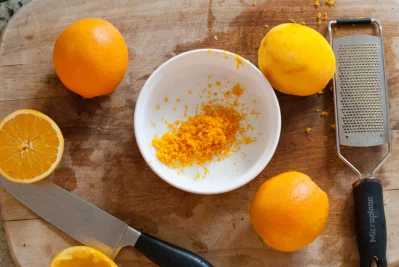 Use orange zest in recipes for a delicious, fresh tangy hit – they're great in cakes and salad dressings. Try this Orange cake with orange icing recipe.
Drink it in tea
Dry orange peels and add some to tea the next time you brew it. The orange will infuse a subtle citrusy taste into the tea.
Use it as a body scrub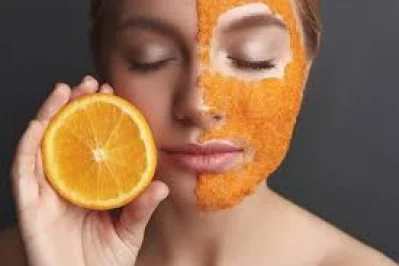 Wrap orange peels in gauze and rub onto your skin while in the shower to brighten skin.
Orange peel powder
You can dry orange peels and grind them up in a food processor to grind into a fine powder. Store in a glass jar until you use the powder in recipes. It's a popular ingredient in making beauty products at home for your hair, skin, or teeth.
Turn it into a sponge
If you have a gunky stove or sink, use a fresh orange peel to scrub it – the natural oils are a perfect degreaser and cleaner.
Work as cleaning spray
To make a brilliant natural cleaner, simply toss some orange peels in a lidded jar and cover with white vinegar. Let it sit in the fridge for a few weeks, shaking it occasionally. Transfer to a spray bottle, shake, and use to clean surfaces, floors and windows.
Make a candle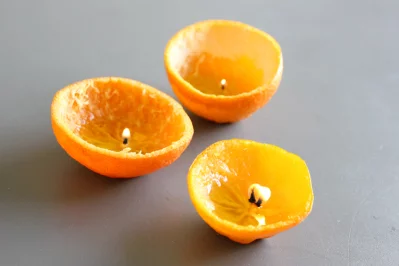 This is a fun project you can make with the kids – an orange peel can be transformed into a candle with nothing more than some kitchen oil and a sharp knife!
Start a fire
Orange peel makes great kindling, whether for a wood-burning fire or campfire. So bung some in and spark up!
Mosquito repellent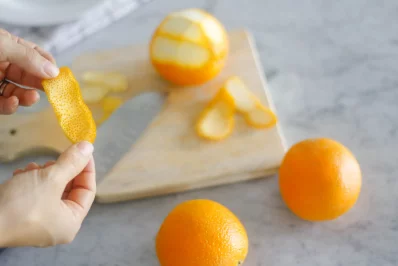 Take fresh orange peels and rub them all over your skin to repel mosquitoes, who don't like the smell.
Ant repellent
Place orange peels (or ground-up peels) around problem areas with ants and watch them march off in the opposite direction.