Peas are famous for their nutty taste and their amazing benefits. Green peas are a powerhouse of nutrients. As per research, green peas comprise fiber, protein, starch, and some phytochemical components. They also contain biologically active substances like alkaloids, flavonoids, glycosides, saponins, and tannins.
Health benefits of green peas
Stomach and other cancer prevention
Peas contain high amounts of a health-protective polyphenol called coumestrol. A study in Mexico City determined you only need 2 milligrams per day of this phytonutrient to prevent stomach cancer. A cup has at least 10 milligrams.
The saponins found in green peas may have therapeutic effects against several different types of cancers according to a 2009 review out of Canada. They are packed with a high concentration of antioxidants which can reduce oxidative damage to cells by fighting free radicals to help relieve inflammation. This gives them great anticancer properties.
Helps the heart
It's been proven that eating a fiber-rich diet can lower your risk of developing heart disease, and as mentioned, peas are a fantastic way to increase the amount of fiber in your diet. But it's not only the fiber content that gives them cardiovascular benefits. "Peas contain a good amount of heart-healthy minerals, such as magnesium, potassium, and calcium," Shapiro says.
Potassium is important for lowering blood pressure, and calcium from food sources (like peas), but not supplements, has been shown to reduce the likelihood of developing heart disease. Magnesium is responsible for transporting calcium and potassium to the heart, which is why the fact that peas have all three makes them nature's perfectly designed food to support your ticker.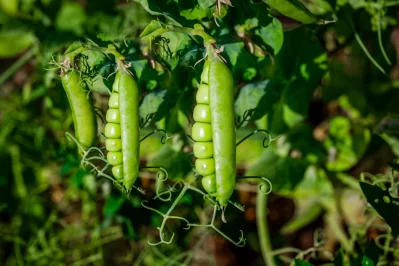 Blood sugar regulation
A high fiber and protein diet will slow down how fast sugars are digested and improve blood glucose response in people with type 2 diabetes according to a study.
All carbohydrates are natural sugars and starches with no white sugars or chemicals to worry about.
Peas may be associated with a lower risk of developing diabetes because of their low glycemic index, according to a review published by the American Journal of Clinical Nutrition.
As they are filled with fiber and protein this makes them a great food to help with managing blood sugar levels. To maintain normal blood sugar levels you need enough fiber which works to slow the absorption of sugar into the bloodstream to help maintain normal blood sugar levels. Increasing your intake of protein has also been shown to decrease blood sugar.
Supports the immune system
Strengthening the immune system is a priority for many, especially during the winter months when colds, flu, and other viruses tend to spike. The good news is that it's easy to boost your immunity year-round with a nutrient-dense diet full of vitamins and minerals. Peas have basically everything you need to support your immune system, including 13% of the recommended daily amount of vitamin C, plus a healthy dose of vitamin E, zinc, and antioxidants to help your body fight off infection.
Protects the eyes
Carrots usually get all the vision-boosting credit, but peas can do a lot for your eye health too. One serving of green peas contains 24 percent of the recommended daily amount of vitamin A, according to Shapiro, which is the most well-known vitamin for maintaining vision and preventing macular degeneration.
Prevents constipation
The high fiber content in peas improves bowel health and peristalsis.
The addition of pea hull fiber to the diet increased stool frequency in elderly residents in one study.
Healthy Bones
Just one cup of green peas contains 44% of your Vitamin K which helps to anchor calcium inside the bones. Its B vitamins also help to prevent osteoporosis.