Capsicum is also known as bell pepper. It is used in traditional medicine worldwide and is available in different colours. It is an excellent source of vitamins, minerals and carotenoids, including lutein, beta-cryptoxanthin, and zeaxanthin.
Nutrition benefits of capsicum
Rich in antioxidants
To prevent your system from the damage of free radicals, you should add fruits and vegetables that are rich in antioxidants. Capsicums are a great source of antioxidants and therefore having capsicum can be beneficial to prevent the damage of free radicals that can further lead to cellular damage and harm the blood vessels. This vegetable might be helpful for people who are suffering from osteoarthritis and cataracts because of the properties that help fight free radicals.
Good for your eyes
Capsicum contains vitamin A, which helps to maintain eye health, keeping your vision on point. This crisp veggies are packed with beta-carotene, a powerful antioxidant that is converted into Vitamin A, which is then used in our bodies to keep our eyes healthy! Capsicums also contain a high dose of the nutrients lutein and zeaxanthin, which can help reduce the risk of chronic eye diseases.
Boost immunity
Capsicum is an excellent source of vitamin C, which means these vegetables might be helpful to improve your immunity. People who do not consume enough vegetables and fruits on a daily basis are prone to low immunity because they lack essential nutrients that your body needs. The vitamin C and K in the capsicum are also helpful to reduce inflammation and blood clot formation, respectively.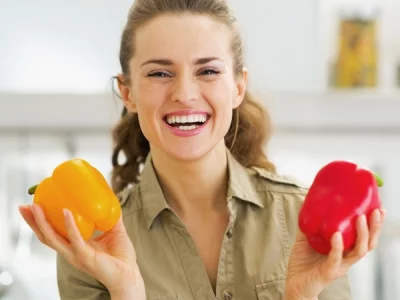 Has some skin benefits
Eating green and yellow bell peppers, may help decrease the wrinkling that can occur in the crow's foot area, according to a study of Japanese women.
Helps in prevention of anaemia
Anaemia is a commonly found condition, especially in females, that often happens due to low iron levels in their bodies. A feature of this condition is that it decreases oxygen levels in our blood. Consequently, anaemic people mostly feel sluggish or tired without any apparent reason. Capsicum is very high in iron. This combination allows speedy and effective absorption of iron in our bodies, preventing anaemia.
For healthy hair
They are rich in vitamin C, which is necessary for healthy hair. Vitamin C aids iron absorption, guaranteeing that adequate iron in red blood cells to transport oxygen to hair follicles. Collagen is formed with the help of vitamin C. Hair follicles, circulatory systems, and skin need collagen to remain healthy and function properly. A lack of vitamin C can result in hair that is dry, split, and often breaks.
Reduce anxiety
Feeling stressed or anxious? Capsicums are high in both magnesium and Vitamin B6, which are essential for the body's nerve function and help to relieve anxiety and panic attacks. Increasing your magnesium intake can also settle the body for a better night's rest, so consider having capsicum in your dinner.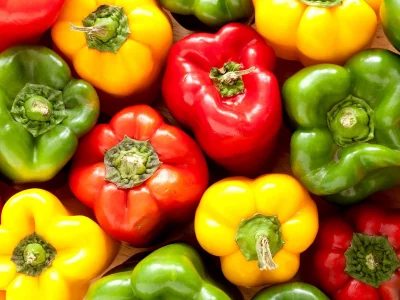 Improve bone health
Capsicums are a good source of Vitamin K, which helps in strengthening bones and preventing osteoporosis. It's also rich with manganese, a cofactor for several enzymes involved in bone formation. If you're deficient in this mineral your bone formation could be negatively impacted. Capsicums can provide enough manganese to prevent this and keep your bones strong and active!
Natural sleep aid
Not able to fall asleep at night? Eat some capsicum! The vitamin B6 found in capsicums also aids in melatonin production, which your body needs to regulate its internal clock.
Weight loss
Capsicums are very low in fat and calories- about 1 gram of fat and 29 calories per cup- which makes them an ideal snack option, or a great supplement for the main meal. This small amount of fat is enough to provide reliable storage for capsicum's fat-soluble nutrients.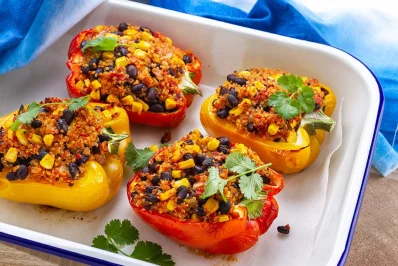 Good for heart and digestive health
Capsicums are healthy vegetable, whether you're opting for green, red, yellow, or orange varieties. All capsicums provide fiber, potassium, some iron, and folate to support a healthy gut, healthy cardiovascular system, and proper natural detoxification. Potassium helps to keep your heart healthy by lowering blood pressure and fight belly bloat by reducing water retention.
Reduce body pain
Capsicum contains a compound known as capsaicin that might reduce pain transmission to the spinal cord. Capsicum can also be helpful to treat herpes zoster pain and neuralgia pain.