Ramadan is just around the corner. Many people struggle with iftar and suhoor, as they want to prepare a nutritious meal that will keep them active.To cut down some of your work, we share here a easy guide.
Plan out your menu
The first thing you need to do is to plan out your menu in Ramadan. Two snack items for iftar, with dates, and fruit for iftar followed by a light dinner.
Think about the things that you have for suhoor and iftar. If you have a separate iftar or iftar and dinner, then you have to be cook separately. If you have iftar and dinner together, then your preparation will be a bit easy.
Shop for food in advance
Once you know what you're going to cook, shop and store your groceries before Ramadan comes. This way, instead of worrying about the ingredients, you'll have your pantry organised and all you need at hand.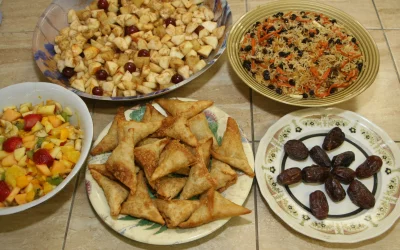 Be-friend your freezer
Set aside a day to prepare a big batch and store them in your freezer in labeled bags. Set aside a day to prep a few meals or ingredients for iftar.
Stick to healthy habits
To stay healthy and energetic, make sure you stick to the right habits before and during Ramadan. First things first, stay hydrated! Drink at least eight glasses of water daily from iftar to suhoor. Stay away from foods that are high in salt and oil and make sure you don't eat too many sweets.
Wash and chop your vegetables and fruits
At first wash, peel and chop your vegetables. Then blanch and freeze them. You can saute some onions, add your vegetable of choice, with seasoning.
Fruits are a great addition to the iftar and suhoor. They are hydrating and a good source of fiber too. Just wash and cut up several variations of fruits. Take some ziplock bags and fill them with different combinations of fruits. Mark the ziplock bags with name and date and throw them into the freezer.
Before iftar, blend them and make fresh juice. Or add yogurt with your fruit cubes to make smoothie.
Cook pasta and halim
Cook a big batch of pasta on the weekend and then use your creativity. Add vegetables to create a new recipe every day.
Soak wheat and all the pulses in water for 5-6 hours or over night for halim. In a heavy-bottomed pan add ingredients to cook meat.
Marinate meat
Douse the meat in some kind of flavored liquid, pop it in the refrigerator overnight and cook it the next day.
Always marinate proteins in the refrigerator, Keep the marinated meat covered, and make sure you are marinating in glass, ceramic, plastic or stainless steel. Reactive materials such as aluminum and cast-iron can cause off-flavors in the food when they come in contact with acid. Do not serve marinades that have come in contact with raw proteins. When you want to use marinades as a sauce, boil the "used" liquids for at least three minutes to kill any potential pathogens. But to be extra-safe, set aside some of the marinade for sauce purposes before you use the rest. Blot off most of the excess marinade on the surface of the food prevents grill flare-ups. Later you can cook or bake chicken or beaaf with seasoning and vegetables.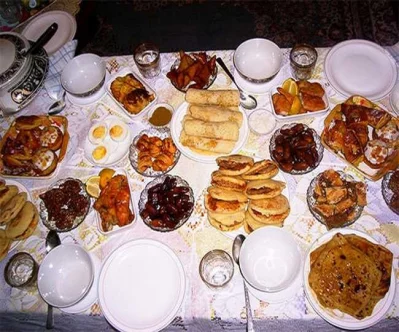 Make your dessert in advance
You can make custurd base or an array of halwa(fudge) for iftar before two days of Ramadan. Add fresh fruits just before iftar.
Boiled chickpeas and dablis
Chickpeas are very versatile item for iftar. They are rich in fiber and protein. You can boil them in bulk and freeze in portions. Use these to make quick iftar meal by adding cucumber, tomato, lemon juice and coariander leaves.