Oxidized jewellery can make you look a class apart and are trending these days. You can go elaborate and wear an oxidised neckpiece set with earrings and bangles. Or you can mix and match and only wear oxidised silver bangles or neckpiece.
It has a tendency to harmonize with any skin; this helps in enhancing the look of the wearer. Instead of diamonds, gold, and silvers, the fashionistas are opting for these pieces of art for their big and small events. There could be rarely a woman now who doesn't have at least a single piece of the oxidized jewellery.
The oxidized jewelleries are gaining popularity for their antique finish. This jewelry is made up of sterling silver treated under high pressure and oxygen for a particular time span then is moulded and designed as desired.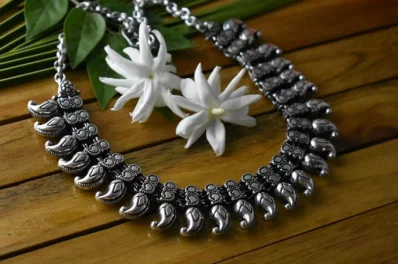 The other most significant reason behind becoming a trend is that they can be paired up with anything and everything according to the attire and occasion. Be ethnic or carry a western attire, this jewellery goes equally well with all of them. There are various items that come under oxidised jewellery, starting from nose pin, jhumka, choker, necklace, chains, armband, bangles, finger rings, kamar bandh, payal till toe ring.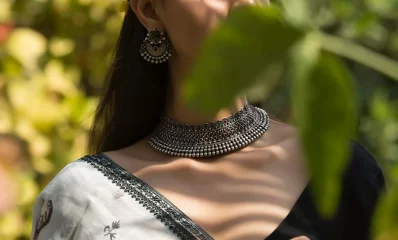 They are of various types like silver oxidized jewellery, gold jewellery, tribal jewellery, gothic jewellery and handcrafted jewellery.
Not only in Bangladesh but oxidized jewellery has a great fan base abroad. Because, they are available easily at affordable prices in the market and online stores.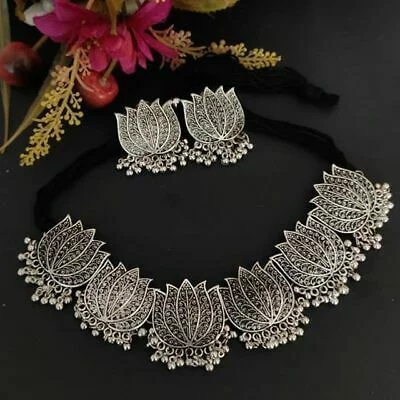 Keep oxidized jewellery dry and away from liquids. Avoid any chemicals or silver cleaners as these can remove the black.
Oxidized jewellery gets spoiled very quickly during the monsoon season. Therefore, to prevent them from getting spoiled, put cotton in a box and keep it well.