An underrated Winter staple is Beet. Beets are jam-packed with fiber and vitamins. While cooking them can be tricky, it is worth it when added into your favorite winter salads or side dishes.
Beet is packed with nutrients and health benefits. They are rich in vitamin C, dietary fiber, and important minerals: potassium, manganese, and folate. Beets help lower blood pressure, prevent inflammation and cancer. Beets also help the body detox by purifying the blood and liver. And don't discard the beet greens, as they contain more iron than spinach, and have an overall higher nutritional value than the beetroot. Beet greens contain protein, phosphorus, zinc, magnesium, potassium, copper, manganese, vitamins A, B6, C, and K, calcium, iron, and dietary fiber. They boost immune function and bone strength, and help prevent Alzheimer's disease.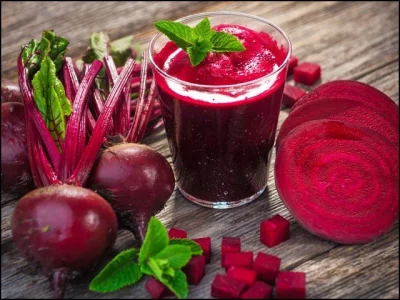 Beetroot also has powerful detoxifying properties. Beetroot juice if consumed daily can help flash toxins from different parts of the body, thereby leading to a clearer, healthy skin. In order to yeild best cleansing results, try drinking fresh detox juice early in the morning.
Beets are a super source of fiber. According to Cleveland Clinic, fiber can help control your blood sugar, plus keep your cholesterol in check and help you avoid constipation.
Beets contain high levels of nitrates. According to data from Harvard Medical School, nitrates are converted by your digestive system into the compound nitric oxide. In turn, nitric oxide acts as a relaxant for your blood vessels, widening them so your blood pressure goes down naturally. Additional research found that the dietary nitrate in beets may cut the overstimulation of the sympathetic nervous system, which can happen if you have heart disease. It's possible that beetroot juice could actually become a cardiovascular treatment in the future.
A new study has shown that the nitrates in beetroot could reduce the chance of developing early-stage age-related macular degeneration, a leading cause of blindness — 100 to 142 mgs of vegetable nitrates each day was found to be related to a 35% lower risk of developing the disease.
A recent study from the University of Exeter found that an ingredient in beetroot juice promotes a specific mix of oral bacteria that can boost the health of blood vessels, plus potentially increase brain function.