Indian gooseberry, commonly known as amla has eight times more vitamin C than an orange, twice the antioxidant power of acai berry, and around 17 times that of a pomegranate. No wonder amla is called a superfood. It is mostly available during the winter months.
You must know that there are several health benefits of eating amla on a regular basis and there is no doubt that amla is a powerhouse of nutrients. The translucent green fruit is famous for its many health benefits and its quality to treat countless ailments.

Improves Immunity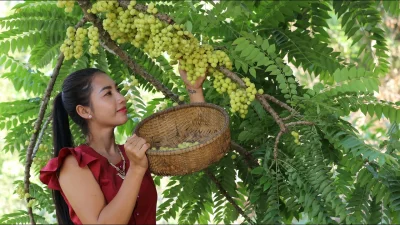 The Vitamin C content of amla makes it an excellent source of building your immunity and metabolism. It is known to fight both viral and bacterial ailments efficiently and reducing the impact of various health problems such and cancer and heart-related ailments.
Good for diabetics
Its high chromium content makes it the best food to regulate blood glucose levels and make it responsive to insulin. This ensures that your diabetes levels are under control.
Fights infections and prevents chest congestion
Since amla is a wonderful source for improving your immunity, amla powder benefits the body during viral and bacterial infections as well as while fighting from the common cold.
Amla also aids in the removal of sputum from the respiratory tract and can soothe the inflamed airways. Therefore, amla is used to provide relief from bronchitis, cough, and other respiratory illnesses.
Prevents constipation
The alkaline nature of amla is known to clear and strengthen the digestive system. The high fiber content of Amla is excellent for the digestive system as it cures constipation. Amla also contains anti-inflammatory properties, therefore dried amla powder can be used to cure hyperacidity and prevent stomach ulcers.
Acts as a natural blood purifier
One of the many benefits of Indian gooseberry is that its Vitamin C content makes the blood vessels stronger and thicker. Amla acts as an antioxidant agent and efficiently detoxifies the body.
Improves eyesight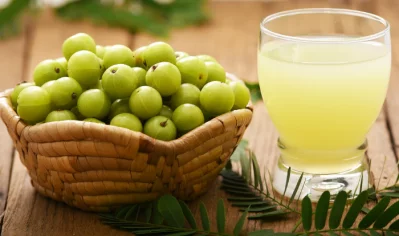 Studies have shown that the carotene in amla improves vision. Daily consumption has also been linked to improvement in overall eye health as amla can reduce cataract problems, intraocular tension (the pressure you feel) as well as prevent reddening, itching, and watering of eyes. The Indian Gooseberry is also rich in Vitamin A that lowers the risk of age-related macular degeneration.
Reduces cholesterol
Amla boosts heart health by reducing bad cholesterol and ensuring that good cholesterol is maintained at optimal levels. Having it in your daily diet effectively reduces the accumulated fat in the arteries and veins.
Helps in weight loss
Amla is also known to have high fat-burning properties by reducing the fat deposits in the body and boosting metabolism.
It also helps in reducing fluid retention by excreting the toxins from the body through the urine. As a result, it helps in controlling obesity.
Boosts hair growth
Amla is a natural immunity booster and that is why it's considered the most preferred hair care ingredient. It contains oodles of essential fatty acids, which strengthen hair follicles, giving your hair strength and luster. More importantly, amla is rich in vitamin C. In fact, the surplus of vitamin C in amla helps in stopping premature greying.
What makes amla an indispensable component of hair care is its high iron content and the presence of potent antioxidants; its ellagic, gallic acid and carotene content improve blood circulation around the scalp thereby stimulating hair growth and also providing relief from dry, itchy scalp.