Tomorrow is the first day of the Spring. It will be celebrated across the country. Pahela Falgun or first day of Spring is celebrated with much fanfare everywhere.
This is the day when yellow, also called 'basanti', became the colour of choice. Traditionally, yellow depicts the positive energy of life, and nature, and by default signifies the arrival of spring.
'Yellow' is the dominant color of this festival as it signifies the ripening of fruits and crops. The mustard fields in villages blooms during this season. All around us we find flowers blooming and birds chirping.
Florals and yellow go hand in hand. You can never go wrong with this selection. With the right festival dress, go for a matt and unobtrusive makeup look with a dash of pink on the lips. You may match the look with a blush pink dupatta.
Attire
Try double shaded ruffles saree. Instead of too many frills, a single ruffle style saree is more comfortable. You can plan to wear plain sari of tissue. The border is having silver lace and printed ruffles attached. Because the saree is not very heavy then wear a blouse with heavy work.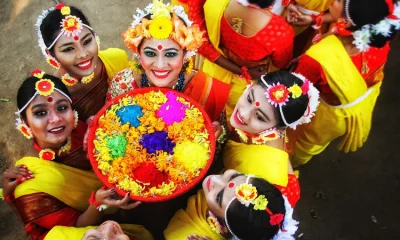 The timeless drape never fails to leave anyone spellbound, and when it comes to the Pahela Falgun attire, a saree is a sure bet. Don't like anything that's too bright? Keeping it stunning in a subdued choice instead, allowing the subtleties in patterns and themes to speak for themselves.
For uber fashionista, wear sari properly then simply carry top with plain color palazzo pants and attach same color floral print fabric on shoulder making pleats and belt for styling on vest.
Makeup
Heavy-duty full coverage foundations look great in winter, but during spring's sunny rays it might look cakey and start creasing. Switching over to a lighter weighted foundation, which gives the face a healthy glow. BB creams and luminous foundations with buildable coverage is ideal for the spring season.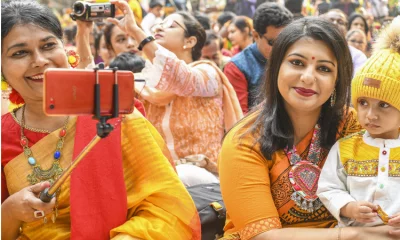 Spring is all about vibrant colours. Opt for poppy and colourful lipstick shades to blend in. Bright pinks and oranges look very apt for springtime! Pastel tones in pinks and peaches are latest trends for the spring season preferably in satin finishes.
Springtime can be perfect by playing with the eye make-up and make the eyes reveal as much as they can. Choosing bold, retro blues and vibrant violet eyeliners will always add on an element of surprise and make your eyes pop.
There is no limit to what nude and neutral coloured eye shadows can do to your look by creating classic looks. One should go for warm berry and nude eye shadow palettes instead of picking dark and smoky shades.
Hair
On this pahela Falgun, you can look more prettier by wearing a yellow sari and matching jewelry with beautiful flowers in your hair. You can decorate your hair with garlands made of colored flowers.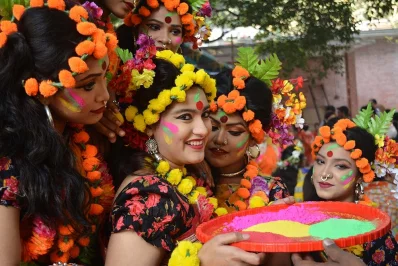 Jasmine flowers can give you a perfect look. If you are thinking about the traditional look then this is the right choice. Jasmine flowers can be a perfect match for your hairstyle. Through which you can decorate the bun or roll each side in the sauce. You can keep the jasmine garland in the shape that floats on the bun.
Marigold flower is the ideal ornament for your hair. You can give a perfect look to your hairstyle by making a marigold garland. This flower can look beautiful even on a stylish outfit.
Rose is everyone's favorite. The rose is a symbol of decency, beauty, and love. Red roses look particularly beautiful with any type of sari or salwar suit. You can apply roses on one side of the bun or on the hair which makes your hair beautiful.